If you've recently signed up with Commerce7, you'll see a Setup Guide in the admin panel that'll take you through the tasks needed to get you up and running on the system. Below, you'll find an overview of the tasks with their documentation links. For more of an advanced setup, you'll find additional links at the end of each section. When you've completed and checked-off all of the required tasks in the list, then you'll be ready to launch with Commerce7. We can't wait!
If you need any help along the way, we're just a short email away at support@commerce7.com to answer your questions or point you in the right direction.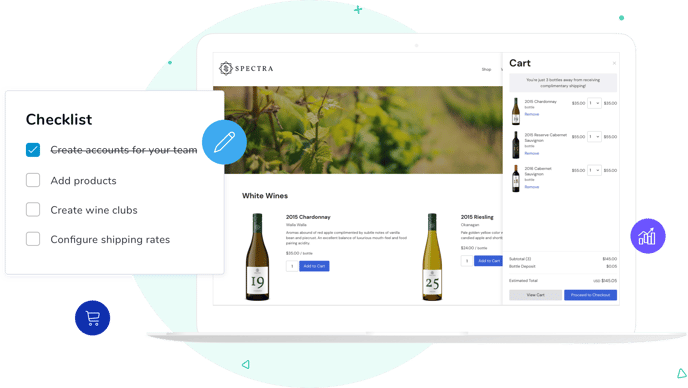 ---

Onboarding Overview


---
Getting Started
When you are in Onboarding Mode, Transaction Emails and System Notifications will not send from Commerce7. This is so your customers and club members don't get spammed with emails as you are transferring their data to this new system. Once you've completed the tasks in the list and "Go Live", Onboarding Mode will be turned off and emails will be enabled.
---

Setting Up Your Store
Advanced ⭐️
---
Creating Wine Clubs
---
Collecting Payment
---
Start Selling
Advanced ⭐️
---
Point of Sale
Advanced ⭐️
---
Reservations
Advanced ⭐️