Getting Started with Reservations in Commerce7.
Setting Up Reservations from Commerce7 on Vimeo.
Setting Up Your Reservations

To access the reservations module, click the 9 dot icon on the top right corner of your screen, and select "Reservations".

The best place to start when getting the module set up, is the settings tab.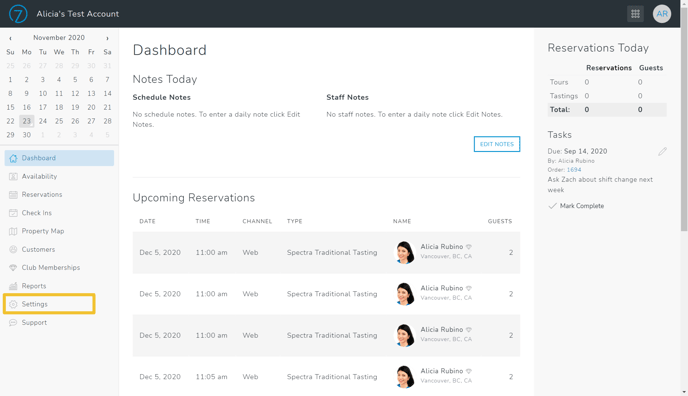 Your Reservation Settings are comprised of several areas all which you should configure prior to using the Reservation system. Click the links below for more details on how to setup the following areas;
General Settings: Includes lead time for web reservations and min/max guest counts.
Reservation Types: Includes all your tasting experiences, as well as availability and prices.
Locations: Includes the various areas of the winery your experiences might take place.
Notices: Setup messaging for your staff on your reservations dashboard, admin panel or POS.
Blackout Dates: allows you to add in dates your winery might be closed so reservations will not be booked on those dates (Note: you can also add blackout dates at the location level).
Third parties: allows you to add third party referrals that you might want to track on a reservation (i.e. hotels or tour companies).
Staff: Setup your reservations staff