Reservation Types are the experiences (tastings and tours) that you offer. You can have experiences that can be booked online or experiences you only have available via the Admin Panel. To see how tour experiences will work on your website click here.
To get started setting up your Experiences, click on Settings > Reservation Types, and then click Add Reservation Type.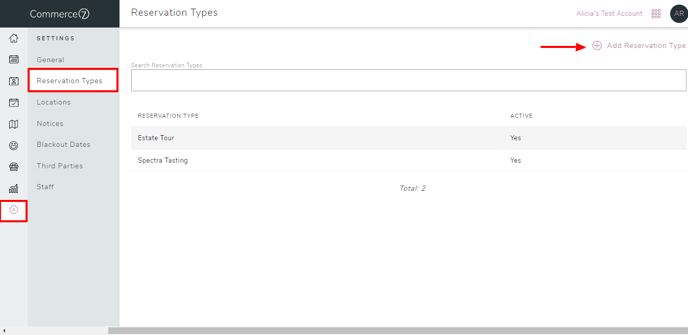 Follow the steps below to setup your experience:
Create a Title for your reservation type. This title will be customer facing.
Select a Type for your reservation, you can have a reservation be either a tour, or a tasting. If your reservation does not fall into these two categories, don't worry, these 2 "types" don't have any separate functionality or attributes associated with them, they are just used for tracking/reporting purposes.
Next, select the Seating Type, once you select Communal or Table seating, the Default reservation location field will populate all the locations you have available under each type.
Select a Default Reservation Location from the locations you have already created. If you haven't setup locations yet. Here is howt to set up locations for reservations.
Select an Inventory Location for your reservation type. Your inventory location options correlate to your pick up locations (here's a doc on creating pickup locations). This inventory location is used for tax purposes on your reservation type. (If your inventory location is your Vancouver tasting room - when a guest books your experience, the taxes they are charged will be based on the location of your Vancouver tasting room).
For table seating you can select a Minimum and Maximum Number of Guests in a Group that are allowed to book in one reservation.
Select the Maximum Groups at One Time Slot which is the number of parties that can be booked into a single reservation time slot.
Select Department from the product departments that you have set up.
In the Minutes Allotted field, specify how long the experience will take. Note: this number is not tied to the reservation time slots you setup. For example, if you have a 2 hour reservation that starts at 12 but offer a 12:30 time slot, the 12:30 time slot will still be available for booking.
In the Minutes Before Location Is Used field, specify how long before the default location is used. For example: let's say that the private tasting begins with a short 15 minute tour around the estate before arriving at the tasting room location - in this scenario we would enter 15 into this field.
Check off the box Requires A Host if your reservation type is going to require a host. Note: Assigning a host will be required to complete this reservation. The system will prompt you to add a host or edit the location while booking an inbound reservation, if you have these checked off. Here is how to set up staff for reservations.
Check off the box Reservations Always Occur at Default Location if your reservation type will always occur at the default location. This means that this reservation will never bump to another location.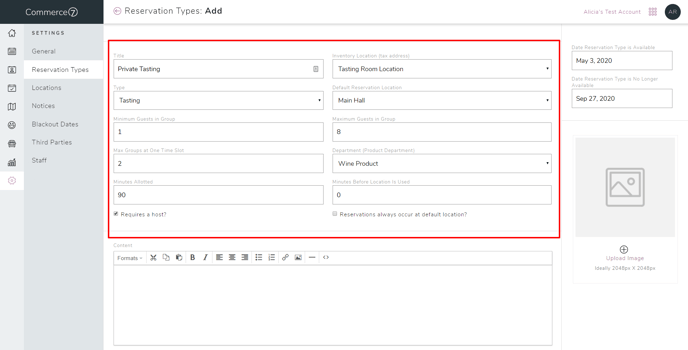 11. Pick a Date Reservation Type is Available and optionally pick a Date Reservations Type is No Longer Available for when your experience can be booked.
12. Upload an Image of your experience for your front end site.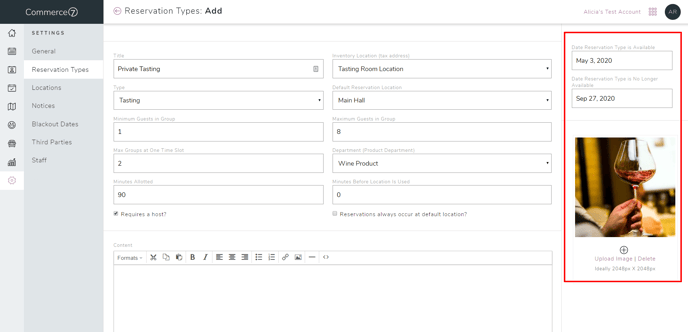 13. Optionally add some content in your reservation. You can use this box to describe the details of the experience.
14. Add in a title for your initial variant, a SKU, and a price.
15. You can optionally add additional variants to your experience by clicking the 'Add Additional Option' button. For example, your estate tour experience may have a variant that comes with a tasting, and another variant that includes a rare vintage tasting. Note: you cannot choose from products you have setup under Store > Products. Reservation options will require a unique SKU.
Click "save option" when you are finished adding variants. To add another variant, click "save and add more".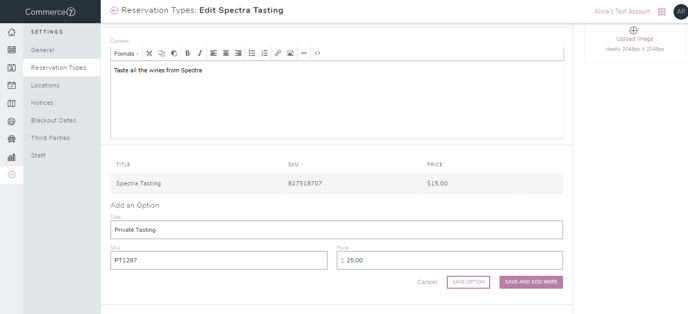 16. Select Reservation Time Slots for the days and times when guests will be able to book your experiences. Click on a day, and then enter in the time when the experience is available.
Note: You must enter your time in the following format "0:00pm or 0:00am"
17. If you want guests to have the option to book their experience online, check the Book Online, check box below each time interval. If the box is unchecked, guests will not be able to book that time online, and the only way they can reserve that time is if a staff member books it from the backend.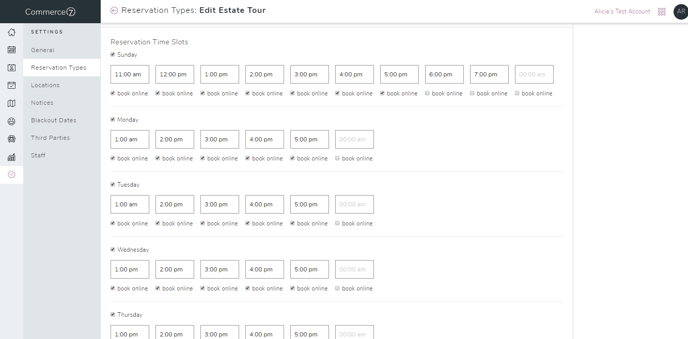 18. Optionally edit the meta tag title, description and slug by clicking the pencil icon near the bottom of your screen.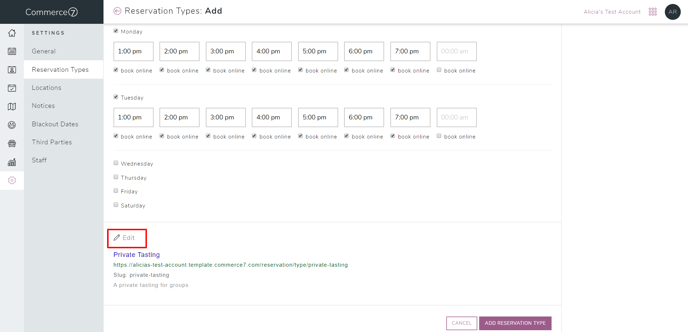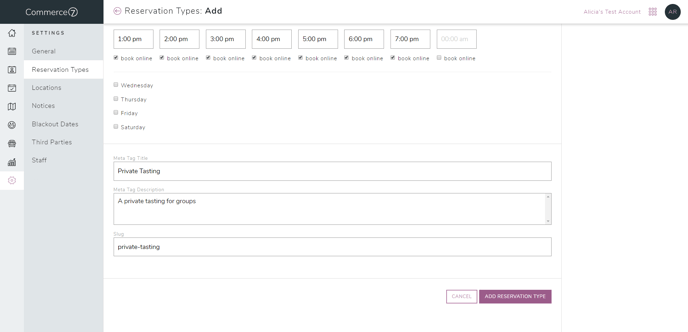 When you are finished creating your experience, make sure to click "Add Reservation Type".
Once a reservation type has been booked for a reservation, the reservation type can no longer be deleted. We recommend inactivating a reservation type you no longer use and then that reservation type will no longer be available to book.

How Will My Reservations Display on My Website?
On the front end, you can plug our reservation widget into your website, and a consumer can come to your site and book your newly created experience.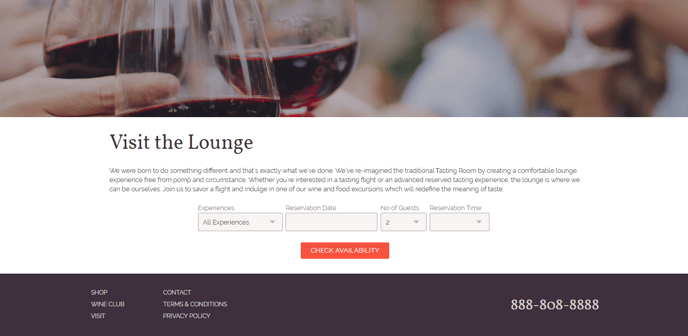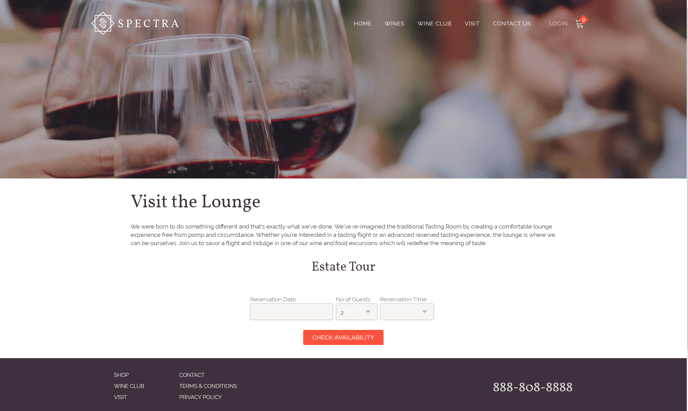 Your customer can select an experience (if you have more than one reservation type), desired date, the number of guests and reservation time. After selecting "Check Availability", if you have more than one product variant for this reservation type, a drop down menu will appear for the guest to select between the options. Below will be the available times the guest can select for that reservation/experience.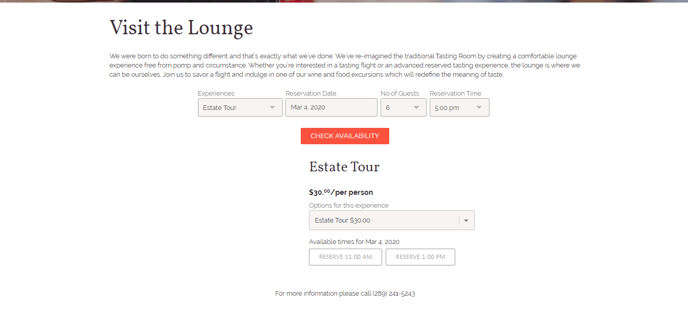 If their desired date/time is not available, they will be recommended similar alternatives.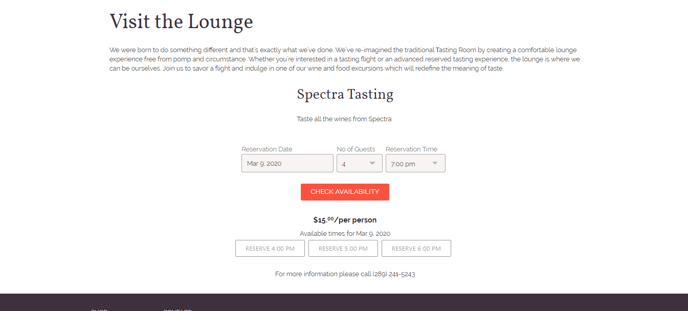 During check out the customer has an option to Add notes or dietary restrictions that will be attached to the reservation.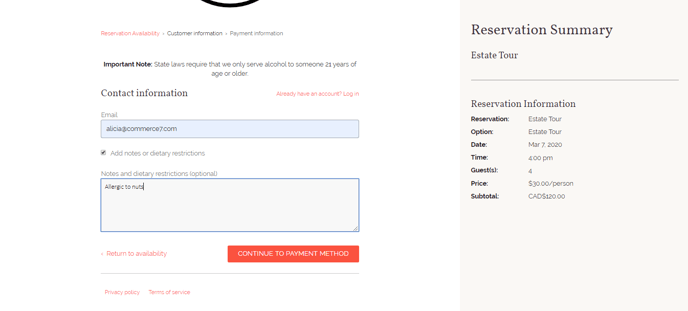 After booking an experience, your customer will see the page below with an overview of the reservation and a reservation number.
The customer will also receive a series of transaction emails based on actions on the reservation.
1. Reservation Confirmation transaction email will be sent upon a reservation being made.
2. Reservation Update Confirmation transaction email will be sent when/if an update is made to the reservation i.e. when payment method is updated.
3. Order Confirmation Email will be sent upon payment capture. Note: the customer will be charged 48 hours prior to the time of the reservation experience.
If a reservation is booked with less than 48 hours of the date and time selected, the customer will be charged at 8:00 a.m. the following day. If the reservation is booked within the same day selected, payment must be manually captured on the reservation.