How to implement the reservations property map and an overview of the functionality.
The property map gives you a daily overview of all tours and tastings occurring at that location. From the property map you can;
check in and close out reservations
start a POS order
link to review the full reservation
drag and drop tables to move guests from one table to another
There can be multiple property maps for wineries with multiple locations. This can work for multi-location wineries as well as multiple areas at a single location. Toggle between locations by selecting the property map title at the top above the time slots.
After your map has initially been set up by your designer/developer, anytime you create a reservation type, the default location you select for your reservation type will correlate with a location on your map. When a reservation is booked, the information will automatically populate on the map.
Select a time on the slider and you'll see an overview of all activity on the property at that given time. The slider time slots are populated from Reservation Settings (Available Start Time and Available End Time).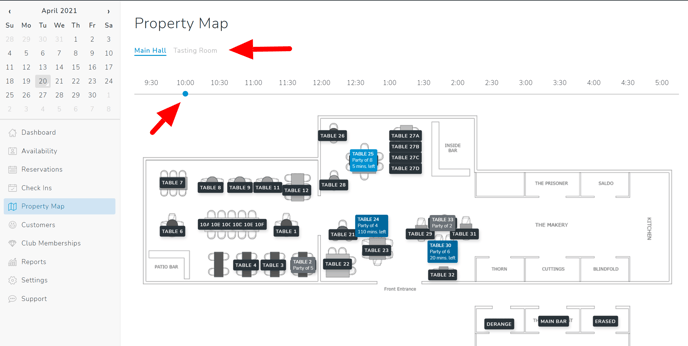 Tables that have a reservation booked but aren't checked in yet will display with the table number and the number of guests in a grey box.
Tables that are reserved and the guests are checked in will display with the table number, number of guests and the minutes remaining in a blue box.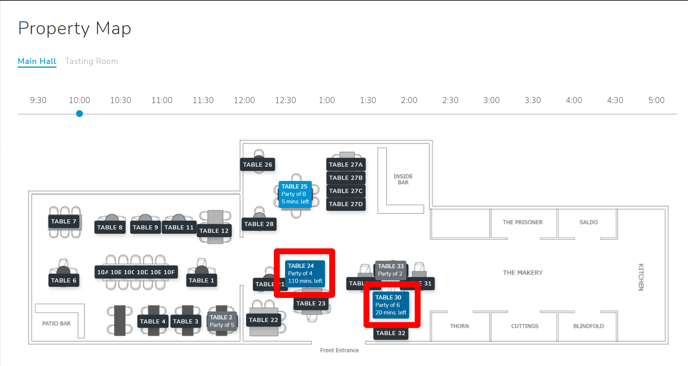 When there is 5 minutes remaining the box color will change to light blue

By clicking on the table you can
select View Reservation to review the full reservation and edit the information
select Check In or Close Out to start or complete the reservation
review the host on the reservation
view customer information i.e. club membership and life time value
the start and end time of the reservation
the number of guests
When you select Add POS Order it will automatically toggle to the POS and create a cart under the customer on the reservation to start an order.
For more information on connecting an order to a reservation, click here.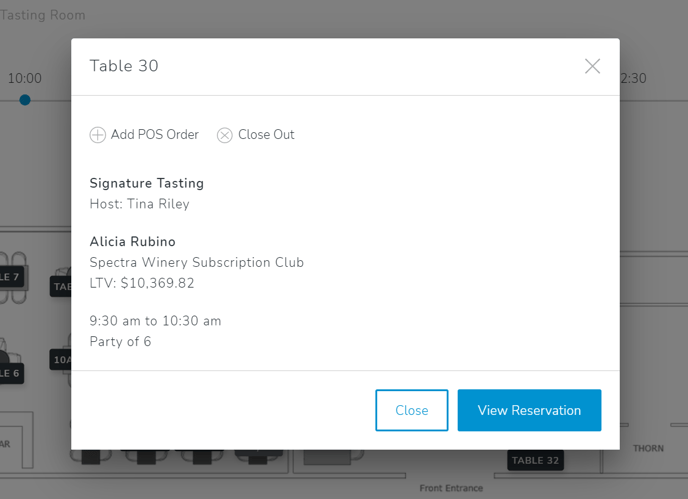 You can toggle back to the reservation system and if an POS cart has already been created for the customer, select the table and select Continue POS Order to continue adding to the order.