Setting up inventory locations for your tasting room or POS Profile
Before you can assign an Inventory Location to be used by your tasting room or POS Profile, you must first setup the location under Settings > Locations. For more information on how to setup your Inventory Locations, click here.
Once your Inventory Locations have been setup, you can specify which Inventory Location or Locations the tasting room should use for carry out orders and ship orders.
For the full setup instructions on how to setup your POS Profile(s), click here.
Start by clicking on Settings > POS Profiles. Then, select the POS Profile you want to edit.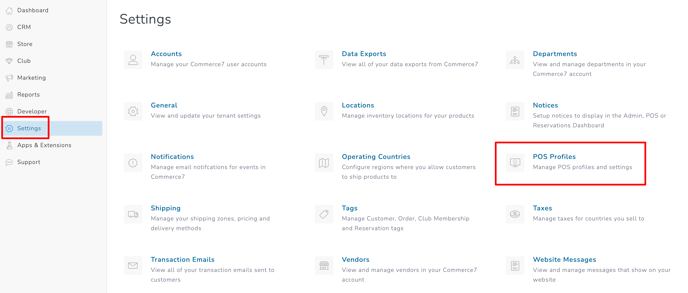 Once you're in the POS Profile, you can select from your pre-setup Inventory Locations to tell the system where you want to decrement inventory for carryout orders, pick up orders and ship orders that happen under this POS Profile.

Click Save POS Profile at the bottom of the screen.