There are multiple ways to add products to Commerce7.
If you don't have too many skus, it makes sense to just add them manually. If a new sku is an updated vintage of an existing product, you should use our product duplicate feature. If you have a few dozen or few hundred skus to create in Commerce7, it might be best to use our API's. If you regularly add, remove, and change skus, it probably best to use Zapier.
Note: Edits made to products AFTER they have been added to a club package will not update in the Club Package (i.e adding images). It is recommended to avoid making edits to products that are already in a club package (i.e changing statuses, SKUs etc).
Manually
To manually add a product in Commerce7, navigate to store > products, then click "add product".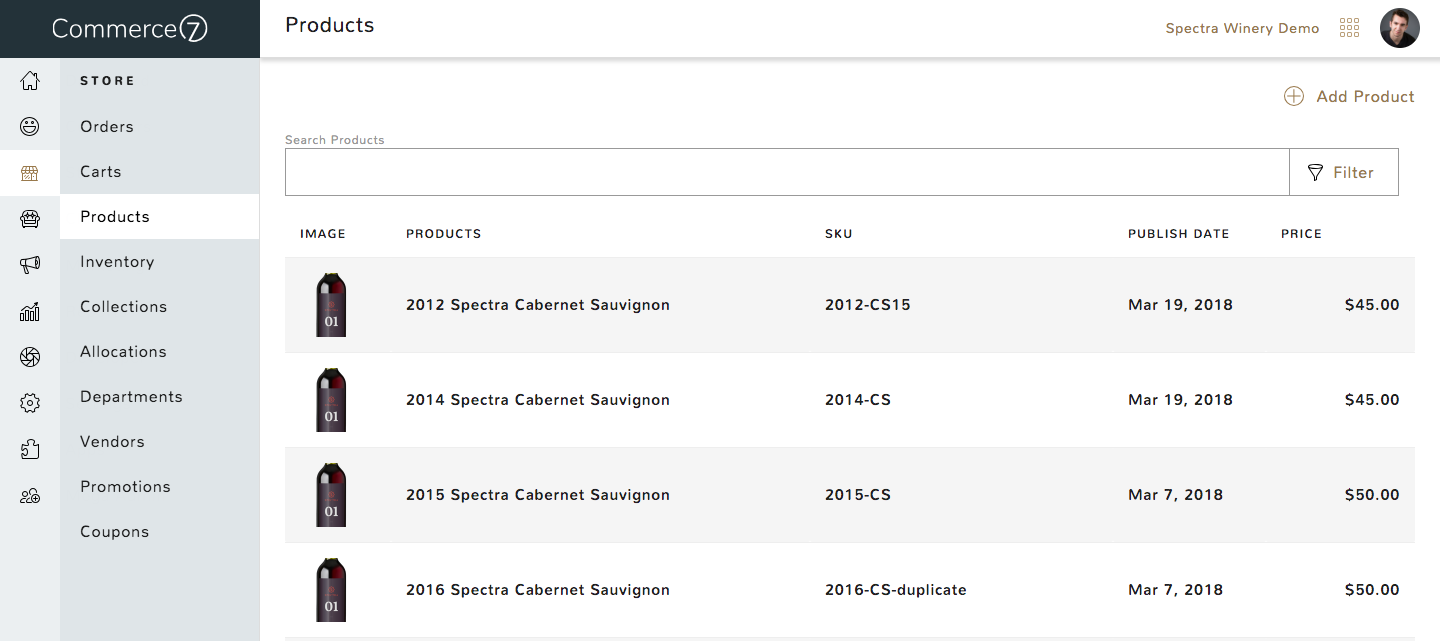 You have the choice of adding a wine, tasting, general merchandise, event ticket or a bundle. A wine, tasting and general merchandise sku are similar except a wine and tasting sku includes wine related default product attributes. A bundle is a grouping of skus. You can learn about bundles here.

When creating a product, you can add a customer facing title, subtitle, teaser, and description.
Decide the Web Status of your product as; Available, Retired or Not Available and Admin/POS/Club Status as available or not available. The definition of each status can be reviewed here.
Optionally add your product to a department and collection(s). You can also optionally assign a vendor to your product (for personal reference if you need to keep track of who supplies this product to you).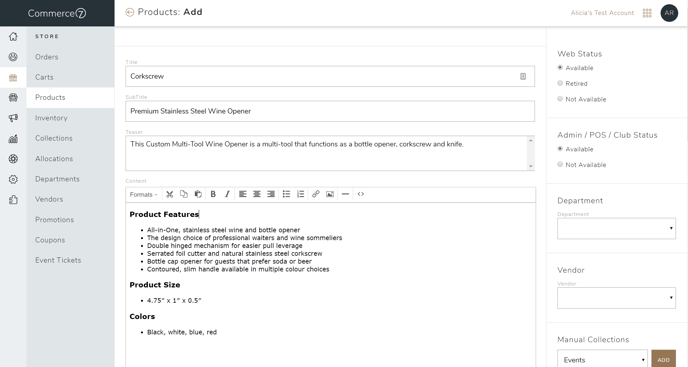 If your designer has set up product templates for you, you can select from them in the "product template" field - otherwise just use the default template.
Ignore the "security" field for now. This field will only become relevant if you create an allocation and include this product in that allocation. In this scenario, the allocation should be set up before you adjust the "security" field. Next add a product image.

Next add a variant title. If you're product is going to have multiple variants (different sized bottles like 750ml, 1.5L, etc, small medium large for clothing, different colors for merch, ect) you can use variants to segment your single product by different properties.
Enter in your sku number (if you're connected with ShipCompliant, your sku in Commerce7 must match with your sku in ShipCompliant).
Ignore the UPC Code field - this is for a future feature.
Enter in a price for your product, a cost of goods sold (for reporting purposes), a tax type, and optionally include a compare at price.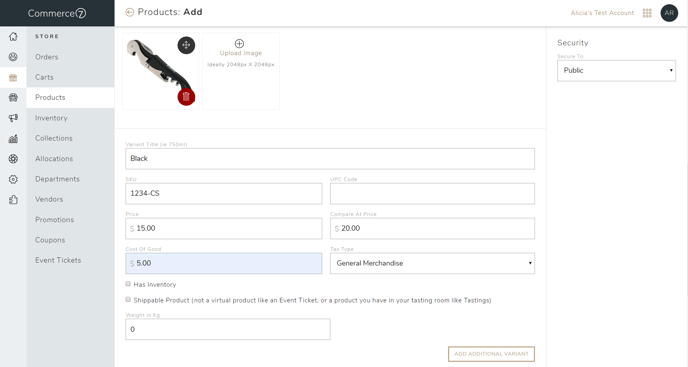 If your product will have inventory, check the "has inventory" box and enter in the initial inventory. Set up the inventory policy as either "back order (customers can continue to purchase this product even when inventory is depleted), or "don't sell" (customers can no longer purchase this product when inventory is depleted). If your inventory for this product is going to be spread across multiple locations, here is how you can create multiple inventory locations.
Checking the box for 'Shippable Product' controls if the product is sent to fulfillment (if using ShipCompliant) and if a shipping cost is applied, here are some examples of what happens when the shippable product check box is checked.
Optionally add additional product variants (different volume sizes of bottles, colors, etc).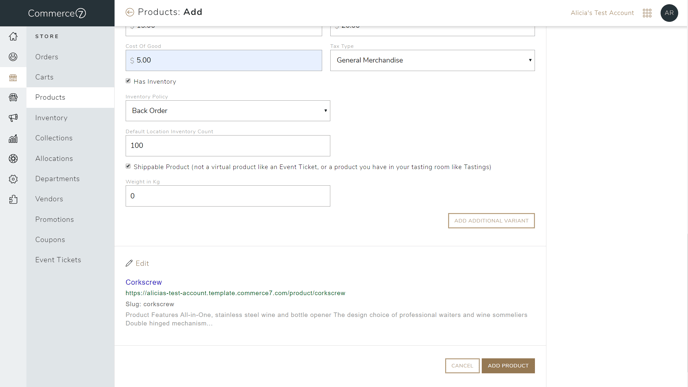 Finally, click the "edit" icon at the bottom of the screen to optionally edit the product meta tag title, meta tag description, and the product's URL (slug).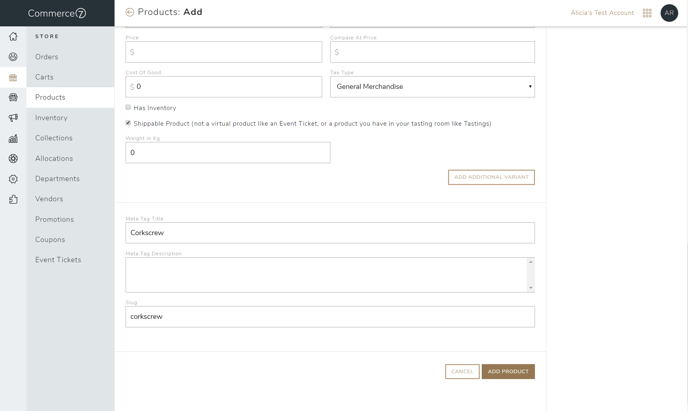 When you are finished - add/save your product.

Once the product has been saved, navigate back into the product page, and copy and paste the product's URL into your browser to see how the product looks on your front end site.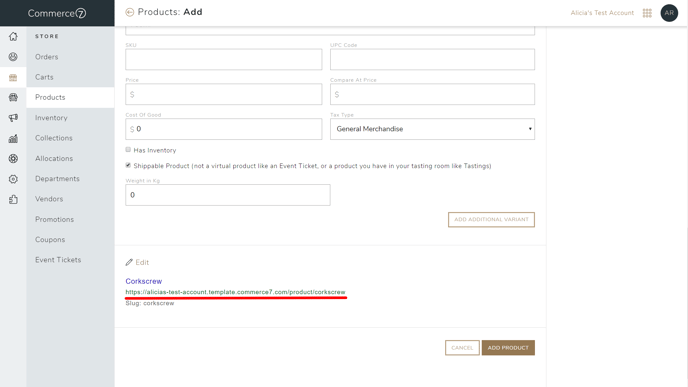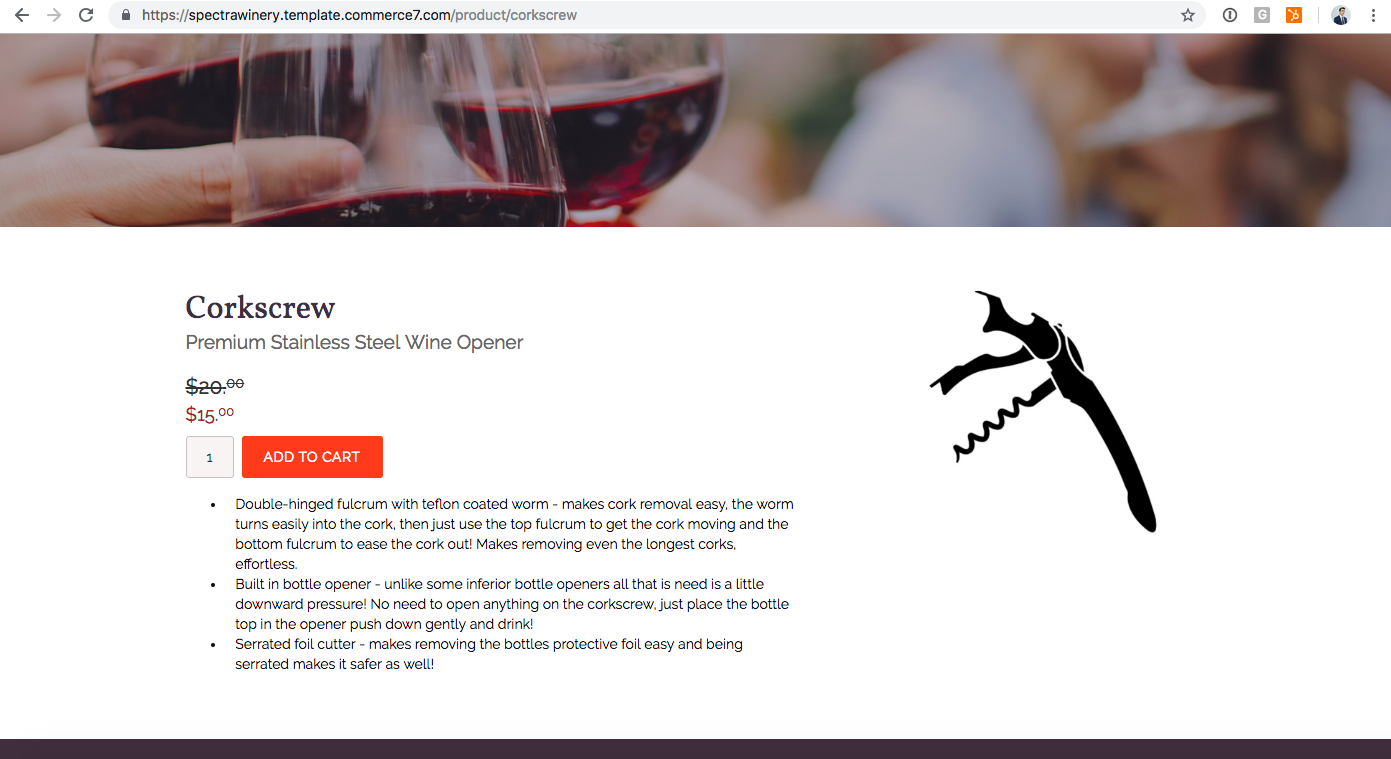 Adding a product by duplicating an existing product.
If you are looking to update a vintage on an existing product, an easier alternative to manually creating a new sku would be to duplicate an existing sku. Here is how to do that.
Adding a product via our API's.
If you have a few dozen or hundred products to create in Commerce7, you can save time by creating products using our API's.
If you're comfortable doing this on your own, here is our API documentation -https://api-docs.commerce7.com/docs. If you run into questions while creating products via the API's, email zach@commerce7.com.
If you are not a developer, and are not comfortable importing on your own using our API's - there are a number of 3rd party developers we'd recommend you work with. You can find them here - https://commerce7.com/partners/developers.
Adding, deleting, and updating products via Zapier.
If you regularly add, remove, and update a large number of products, it may be helpful to integrate with Zapier. Contact pablo@treefrogdigital.com for assistance setting up this integration.