Common Compliance issues and messages - and how to resolve them: ShipCompliant Users
When using a compliance integration, if your order has a Quarantined status, it means that there was an issue with your order that stopped it from successfully going through compliance. By checking the Compliance tab of your order, there will be a reason code explaining why the quarantine occurred.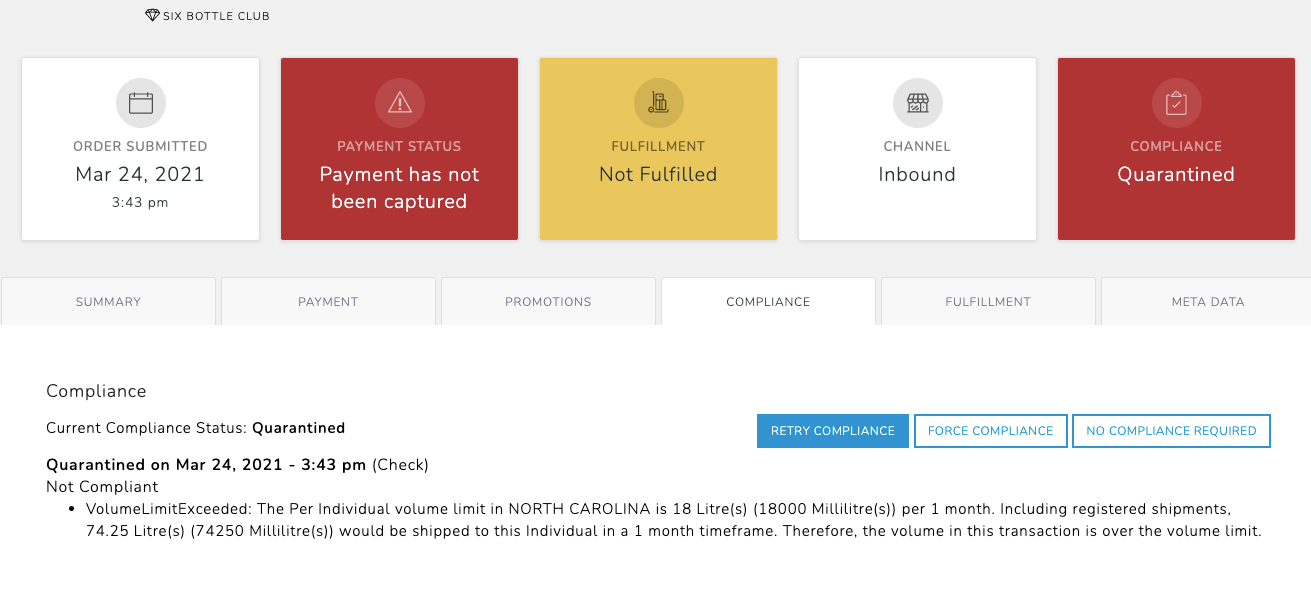 Once the issue has been resolved, click Retry Compliance to send the order through and try again.
---
ShipCompliant
Common quarantine reasons

If you don't see your quarantine message below, or if you have additional questions about a quarantine error you're seeing, please contact ShipCompliant Support: shipcompliantsupport@sovos.com.

258: Specified Shipping DateOfBirth must be at least 21 years old.
This means the date of birth on the shipping address is not compliant. To edit the birth date, go to the Summary tab on the order and select 'Edit' under the Shipping Address and edit the birth date. Once you have corrected the birth date on the shipping address, go back to the Compliance tab and select "Retry Compliance".
201: Product matching given BrandKey/ProductKey is not available [,REDWINE]
This means there is no SKU with that product name that exists in ShipCompliant, or the SKU you have in ShipCompliant does not match what you have setup on Commerce7. Check your ShipCompliant account. It is important to have the the product SKUs in ShipCompliant match the SKUS in Commerce7. After you make the correction on the products that are causing the order to quarantine, go back to the order > Compliance Tab and select 'Retry Compliance'.
1021: Every Shipment must contain at least one non-freight ShipmentItem. A Shipment in SalesOrder 1234567 has zero non-freight ShipmentItems.
This means the SKU for the product listed is not setup as a non-freight item in ShipCompliant. Once you have this corrected in ShipCompliant, go back to the order, select the Compliance tab and then select "Retry Compliance".
208: ShippingService not found in system [Ground].
Ensure you have the correct carrier codes for your shipping services setup in Commerce7. You can check this by going to Settings > Shipping in Commerce7. It is important that the codes are an exact match to the fulfillment option codes in ShipCompliant. Here is a link to our documentation that has some common carrier codes listed, click here.
After correcting the shipping code on a shipping service, selecting "Re-try Compliance" on order won't work. You have to refund the original order and re-process a new order for it to properly pass compliance.
LabelRegistrationRequired: The following products either do not have a label associated with them or are associated with labels that do not have valid label registrations: 2012 Cabernet Sauvignon Oakville Napa Valley 750ml (12CAB).
This error means you don't have correct label registration setup for this product in ShipCompliant. Check this product setup in your ShipCompliant account. When you have corrected the error, go back to the order, select the Compliance tab and then select "Retry Compliance".
Frequently asked questions
I have clicked the 'Retry Compliance' button on the order in Commerce7 but it's not working.
If you have corrected the issues on your order and have clicked the 'Retry Compliance' button, please contact support@commerce7.com. Please include the order number and steps you took to correct the quarantine issue.
I have a quarantined order that I want to mark as 'No Compliance Required'.
If you have an order that has quarantined and does not need to go into ShipCompliant, you can choose the option, 'No Compliance Required', on the Compliance tab of the order. This will clear the quarantine status, and the order will not flow to ShipCompliant.
I have refunded a quarantined order instead of fixing the issue, how do I clear the 'Quarantined' status on the order.
It is very important to have your orders balance in ShipCompliant for reporting purposes. If you decided to refund the quarantined order instead of fixing the issue, there is a chance that your order in ShipCompliant are not balancing.
For more information on how to manage refunds in ShipCompliant, we recommend you read the following documentation: How Do I Manage Refunds in ShipCompliant?
---
Avalara
For more information about addressing quarantines with Avalara, read here.
---
Keywords: compliance issues, ShipCompliant issues, compliance errors, shipcompliant errors, compliance messages, shipcompliant messages, shipcompliant issues