Follow these steps to get up and running with your wired payment terminal.
1. On initial setup, note that you will need to insert the Ethernet connectivity adapter (pictured below) into the terminal device, make sure it clicks into place. Follow the diagram on the adapter's label to show which port to use for Ethernet connectivity, also make sure your power adapter cord stays firmly plugged in.

2. Ensure port 9001 is open, if you have a Firewall.
3. Connect the terminal to the network via Ethernet connection. The terminal may show a critical error if the ethernet is in the wrong port, or if you have the 9001 port closed.

4. Once the device boots up, you will see an activation code on the screen.

5. Activate the terminal through MerchantTrack
Activating the Terminal
1. In Commerce7 under Settings > POS Profiles - open a profile and scroll down to Chip and Pin Devices and click Activate Devices.

Clicking Activate Devices - this will take you to Merchant Track > Terminals > Activate
Enter the activation code, and click Activate.

Then you will see the Terminal ID to enter into Commerce7 below.

Write down the Terminal ID(s) from above and click back in your browser to get back to Commerce7 Pos Profile > Chip and Pin Devices and enter the Terminal ID(s), the Title is the name displayed in the POS when selecting the terminal. If you have more than 1 terminal click Add Device to add additional terminals.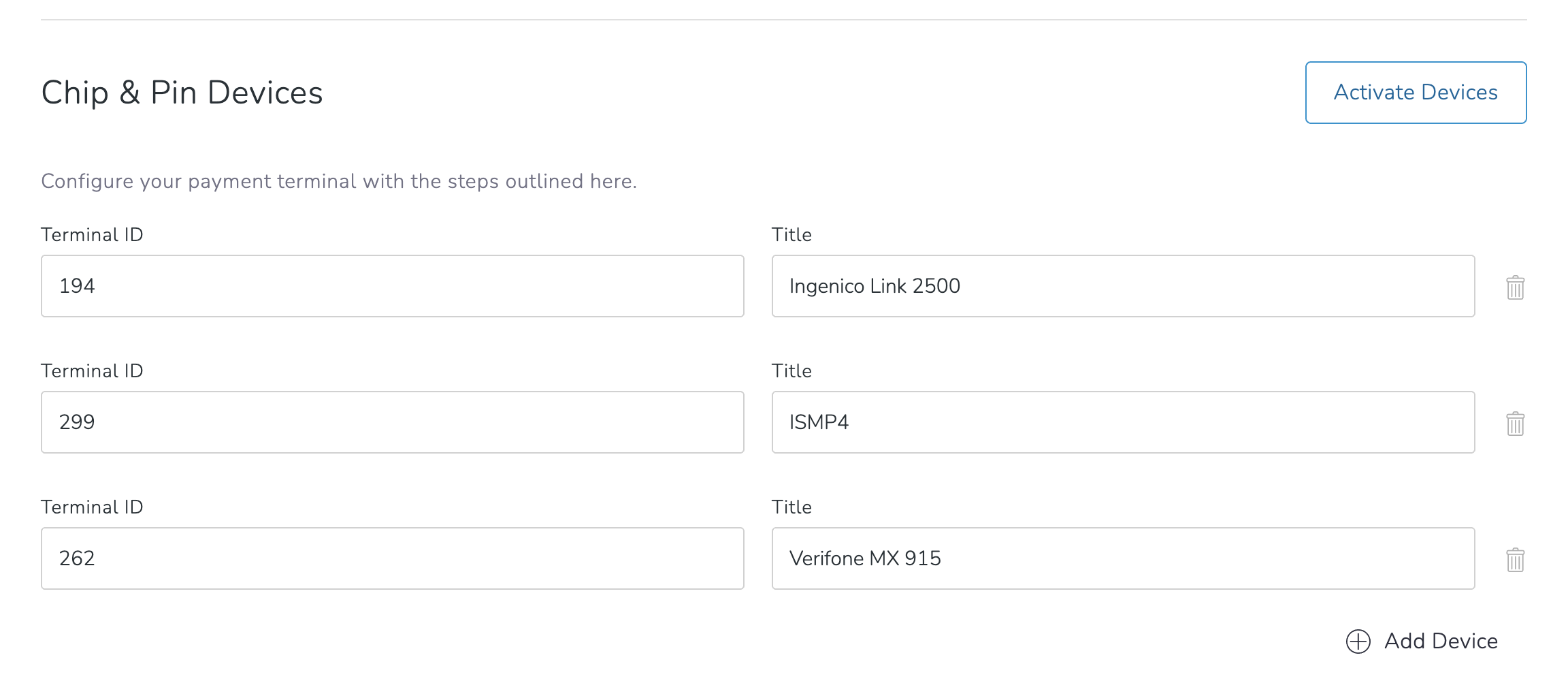 4. Wait as your device will begin downloading a few items for a couple of minutes to complete device configuration and eventually go to the TriPOS screen, at this point your device is ready to accept payments.

Sending transactions to the Verifone Mx915
Once you have the Ingenico Verifone Mx915 setup, when you select charge order on the on the POS you should see Process with Commerce7 Payments as a tender option.
Select Process with Commerce7 Payments to send the transaction to the Verifone Mx915 terminal to complete the transaction.
Currently, if you are integrated with both Commerce7 Payments and Stripe you will see the option to Process with Stripe but this will not send the transaction to the Ingenico Link 2500 terminal. Process with Commerce7 Payments has to be selected to send the transaction to the terminal.