Personalizing your consumers online experience has a ton of benefits. You increase your conversion rate, average order size, and the number of spontaneous purchases consumers make. Personalization can even help with turning first time consumers into repeat buyers.
Personalizing the online shopping experience you provide consumers is easy on Commerce7 - but you will need your designers help. In these instructions, Step 1 and 3 are for designers. Step 2 is for Commerce7 users.
Step 1: Have your Designer Setup Personalization Blocks.
Have your designer read and then setup personalization blocks on your website. Documentation is here.
Step 2: Add Content to Your Blocks
After your designer has created a personalization block, you can navigate to the marketing section of the admin panel, and then click on "personalizations". Select the block that has just been created.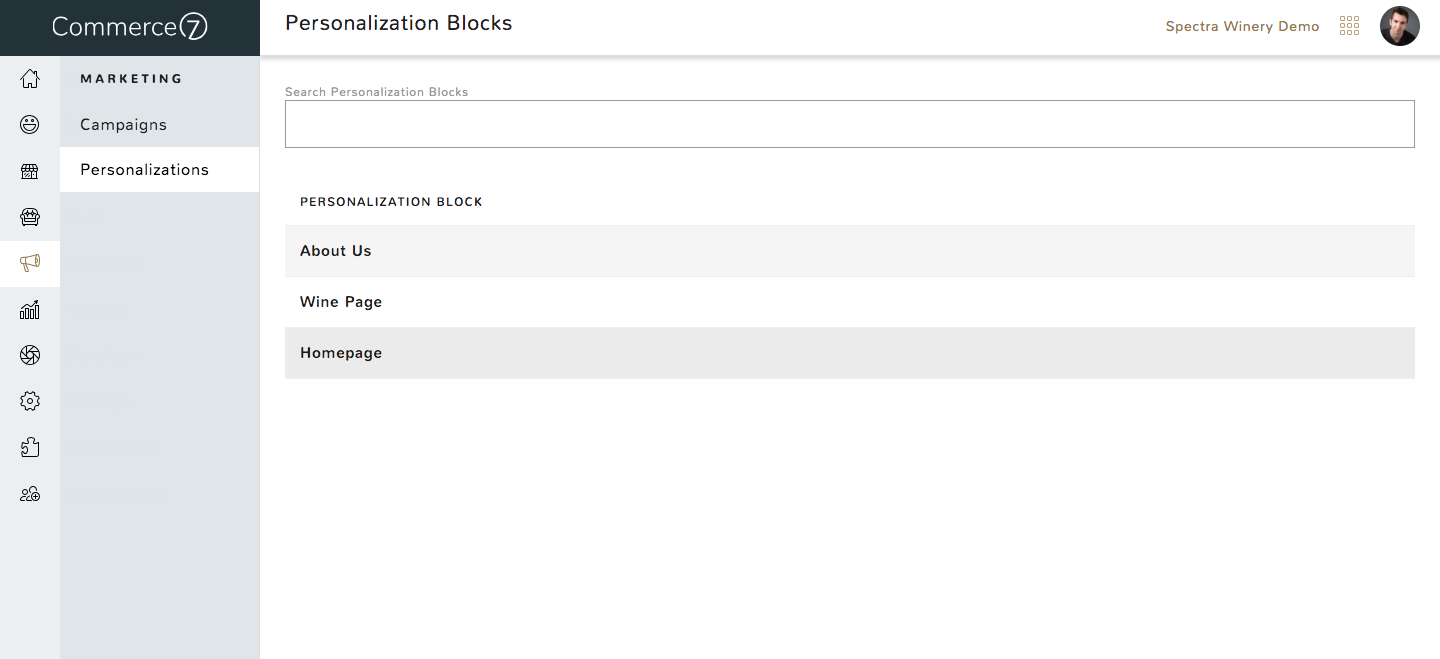 Now you can add different content to your block. First title your first content option. This is an internal title for your own reference, I would recommend picking a title that describes who the content is for such as "first time visitor" or "club member". Another option would be to title the block based off of what content will be displayed such as "happy birthday message" or "we miss you promo".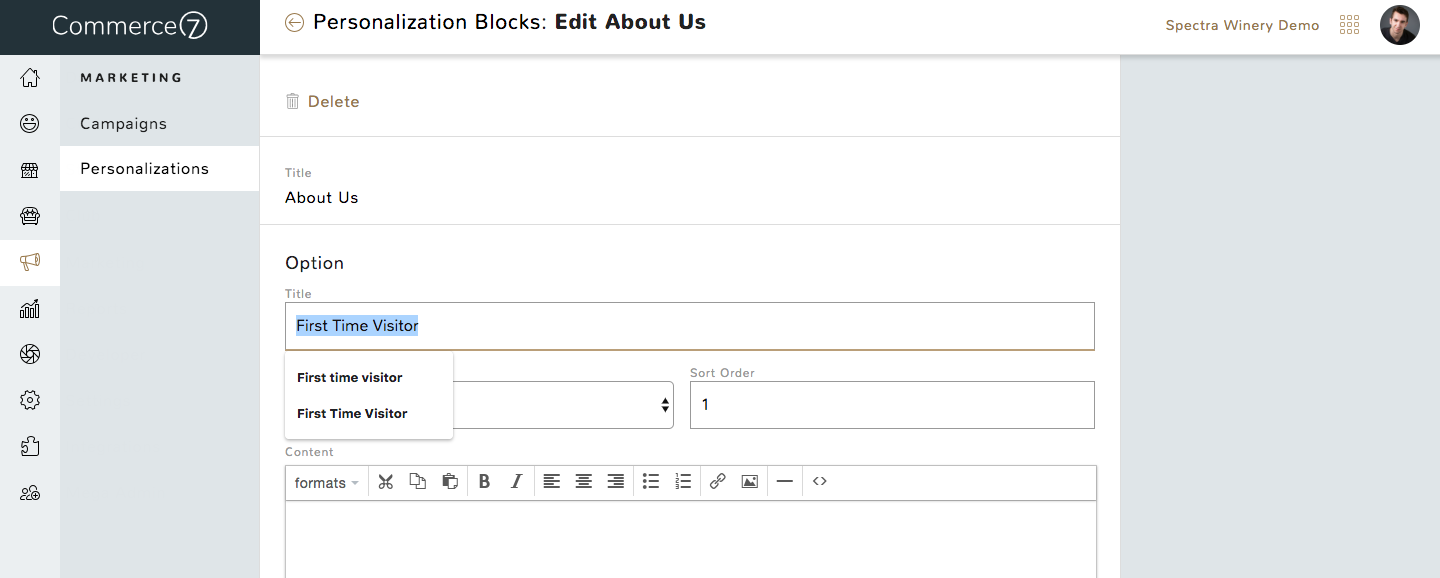 After you have entered a title, you can select the type of content you want to display. Today we offer the following variables
General Content (text box, images, buttons, etc).
Product Collection (any of your pre-made collections including our new personalized collection).
Club Shipment (a club members most immediate club package).
Subscribe Form
After selecting the type, you can select the sort order. The sort order is going to be the rank in which the content blocks appear in case a visitor is eligible to trigger multiple content blocks. For example, if you have content that triggers for visitors who haven't purchased 1 year and the sort order is 1, and also content that triggers for repeat visitors in rank 2, and I arrive to the site as both a repeat customer and a visitor who hasn't purchased in 1 year - I will receive the "hasn't purchased in 1 year" content because that content is ranked higher in the sort order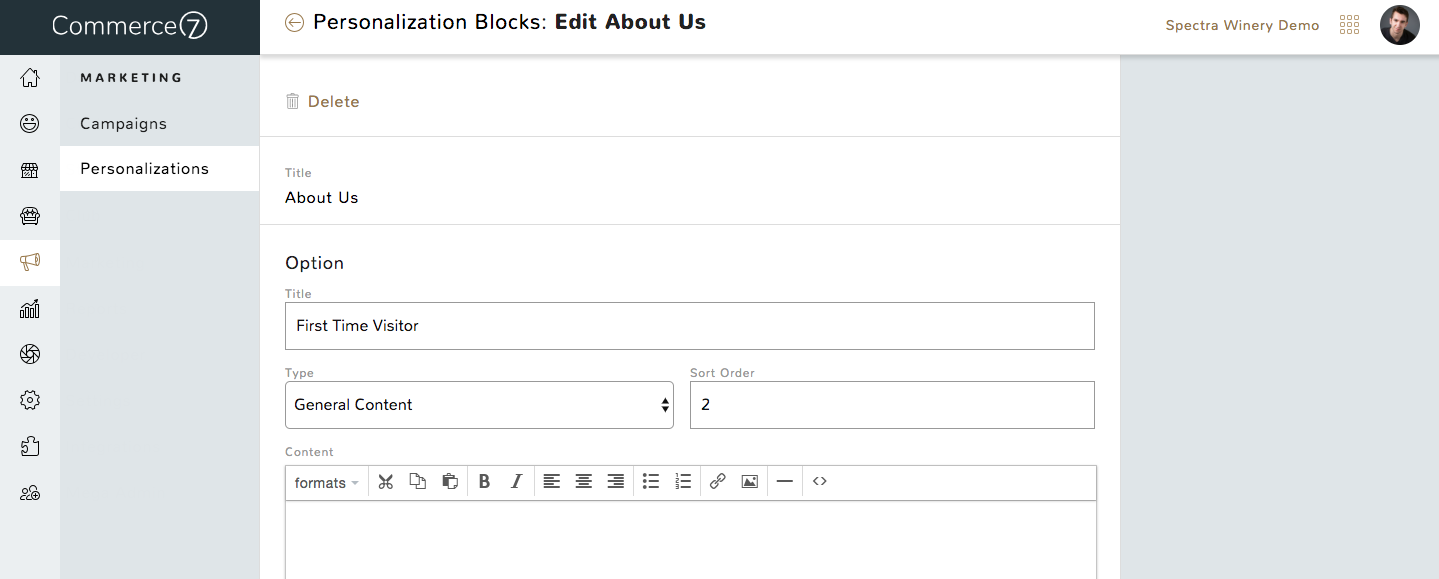 After selecting a type and sort order, you can enter your the actual content (text, buttons, images, etc) you want to display in the content block. We have a wysiwyg editor in here that can be used to style the content, or you can have your designer style the content using raw HTML.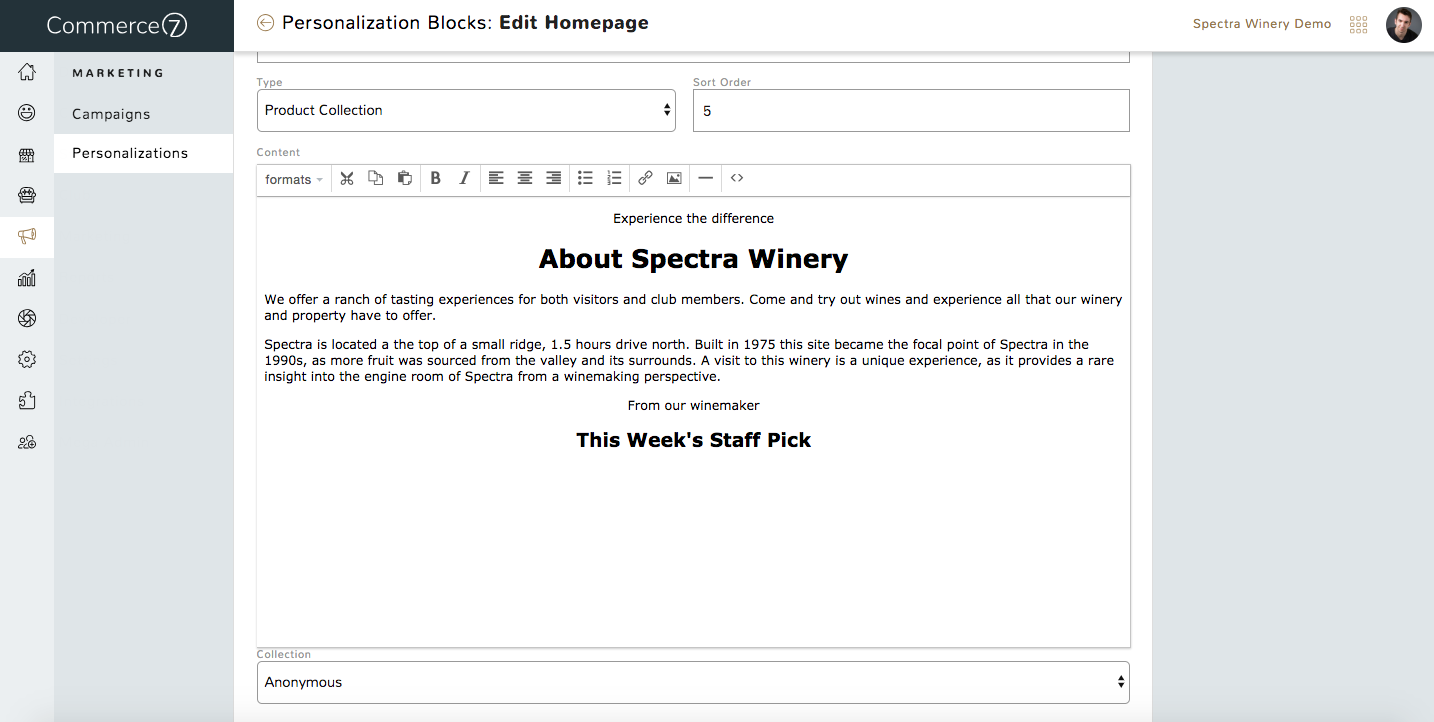 After entering the content, the next step is to specify the conditions of a visitor that will trigger that content. We have a ton of different variables you can choose from. For example
If the visitor is a customer who is, or is not a subscriber, first time customer, repeat customer, club member, anonymous, or a known contact who has never purchased.
Has a lifetime value greater than or less than a specific dollar value.
Has a customer rank that is greater than or less than a specific number.
Has a last order date that is greater than or less than a specific date.
Is or isn't a club member for any specific club.
Is or isn't in any specific group.
Has a birthday that is on a specific day or within a specific month.
Multiple different conditions can be added to any content - for example, you could have content that triggers if a visitor's customer rank is above a specific number OR if a visitor's lifetime value is above a specific dollar value. Content can be set to trigger when any specific conditions or met, or when all conditions are met.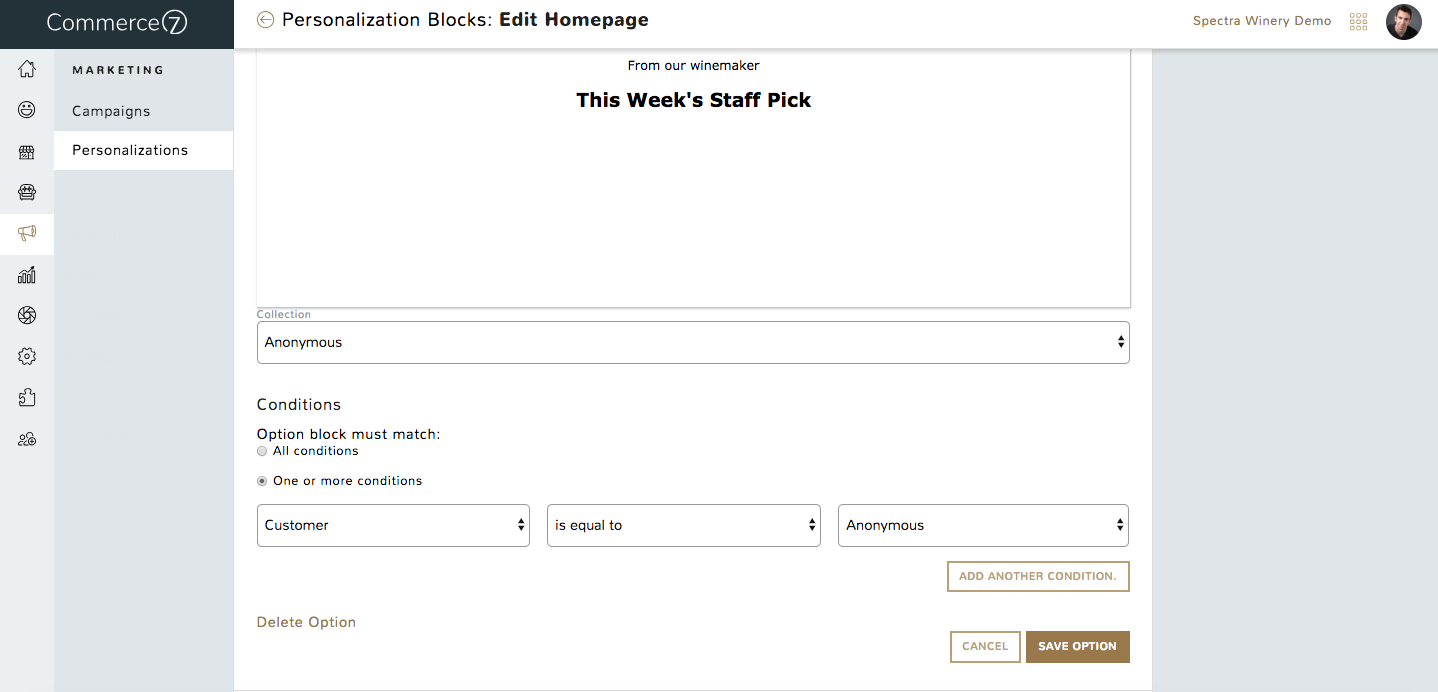 Multiple options that display different content based off different conditions can be setup within one personalization block.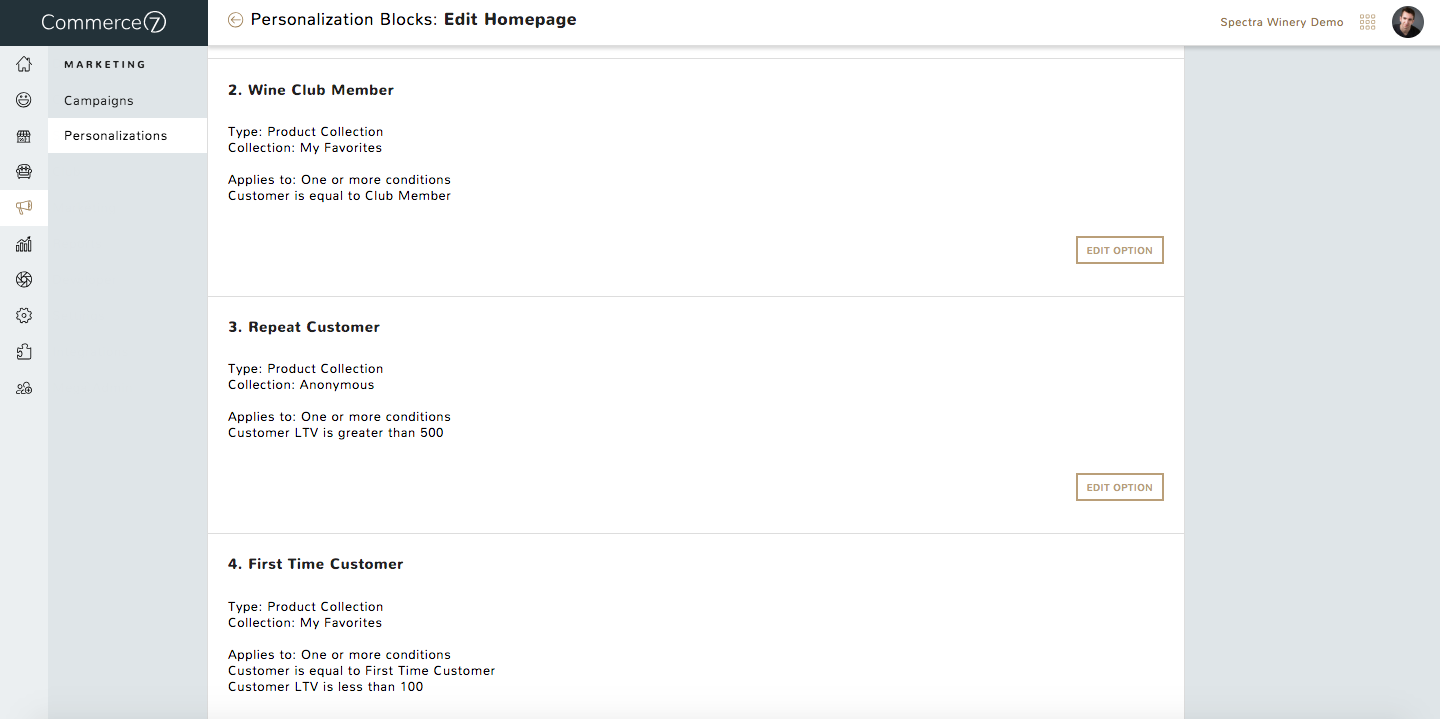 Examples
Here is an example of how this tool can be used. The following screenshots are all from the same homepage viewed from different user accounts.
View for an anonymous visitor. Likely their first time to the site - so we tell them our story.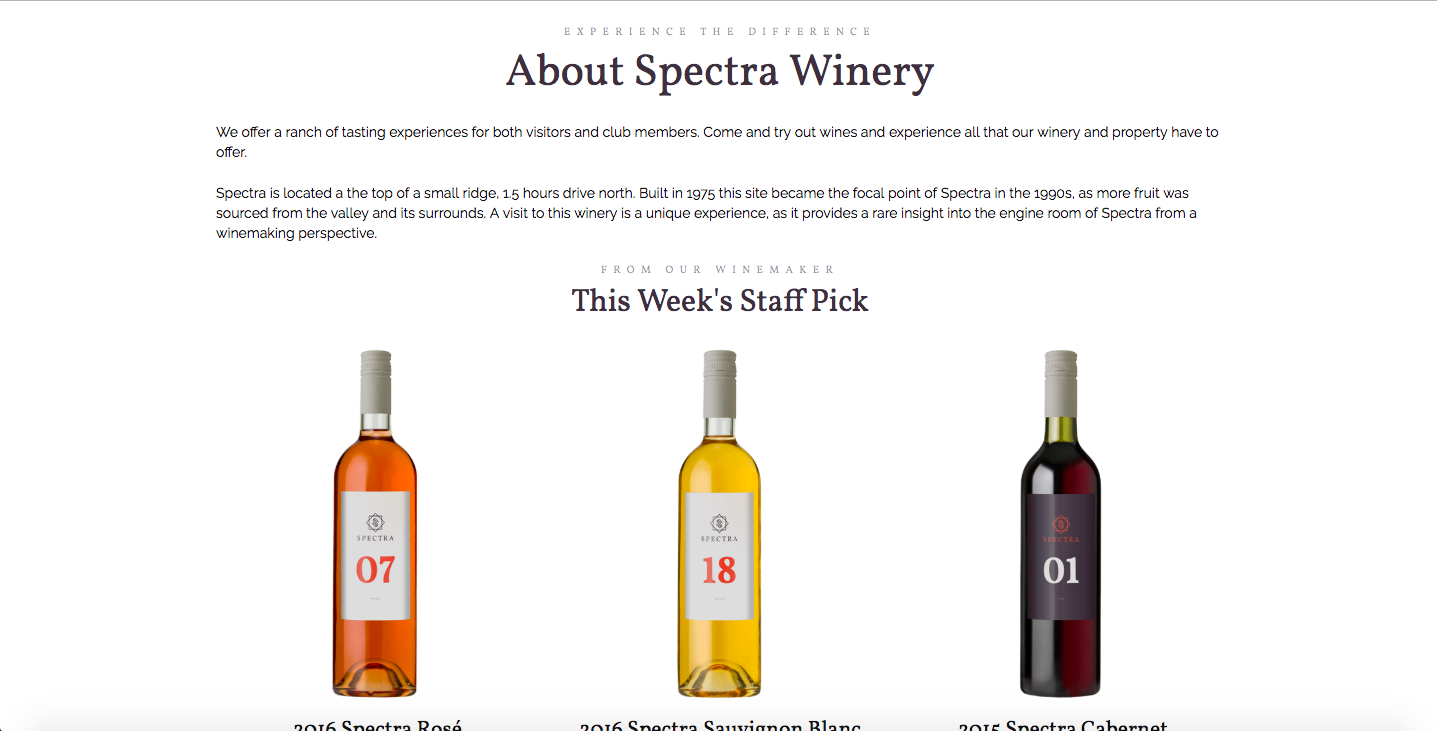 2. View for someone who's made an initial purchase. We want them to buy again so we serve up personal recommendations right upfront to entice them. These recommendations are based off their initial purchase history.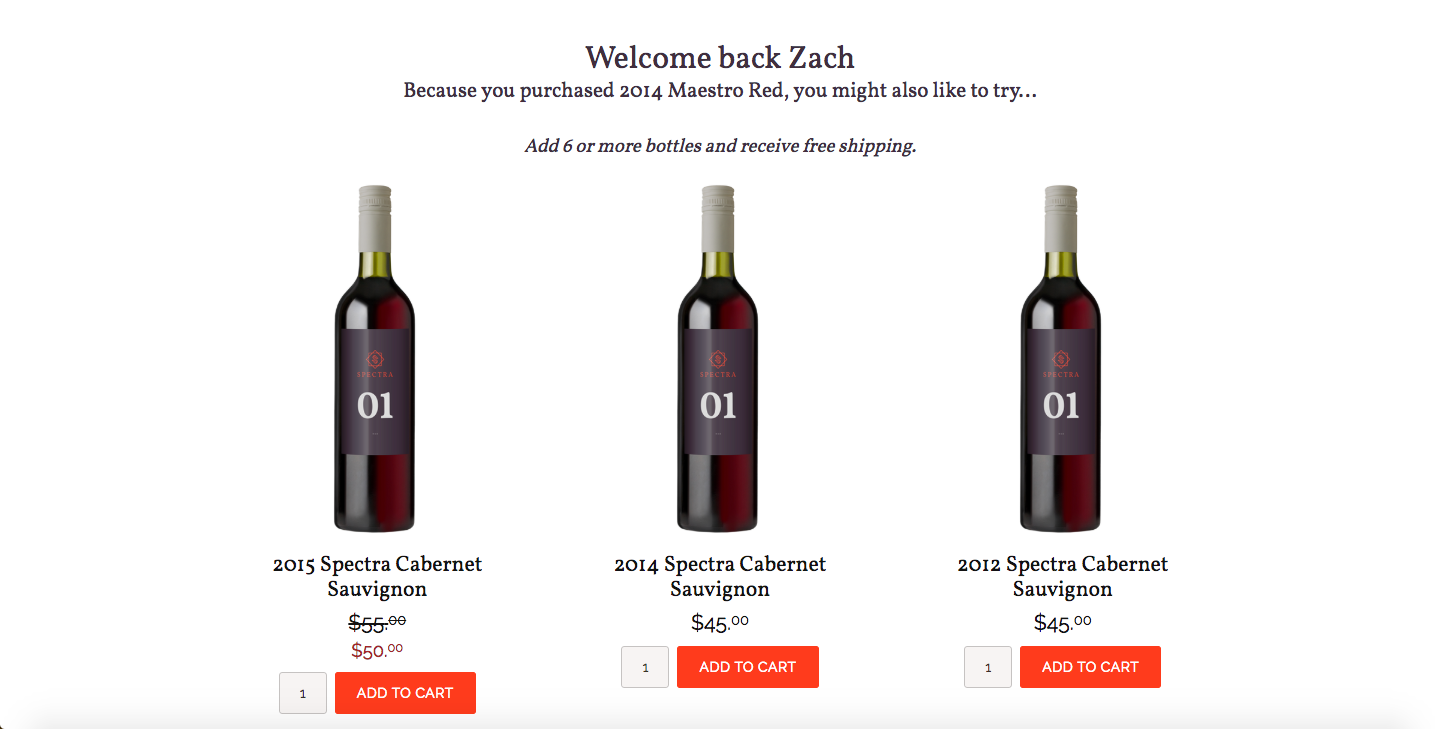 3. View for a repeat buyer. We know they like the wines, so we want to upsell them into the club. We can show them all the benefits of the club right upfront to encourage them to join.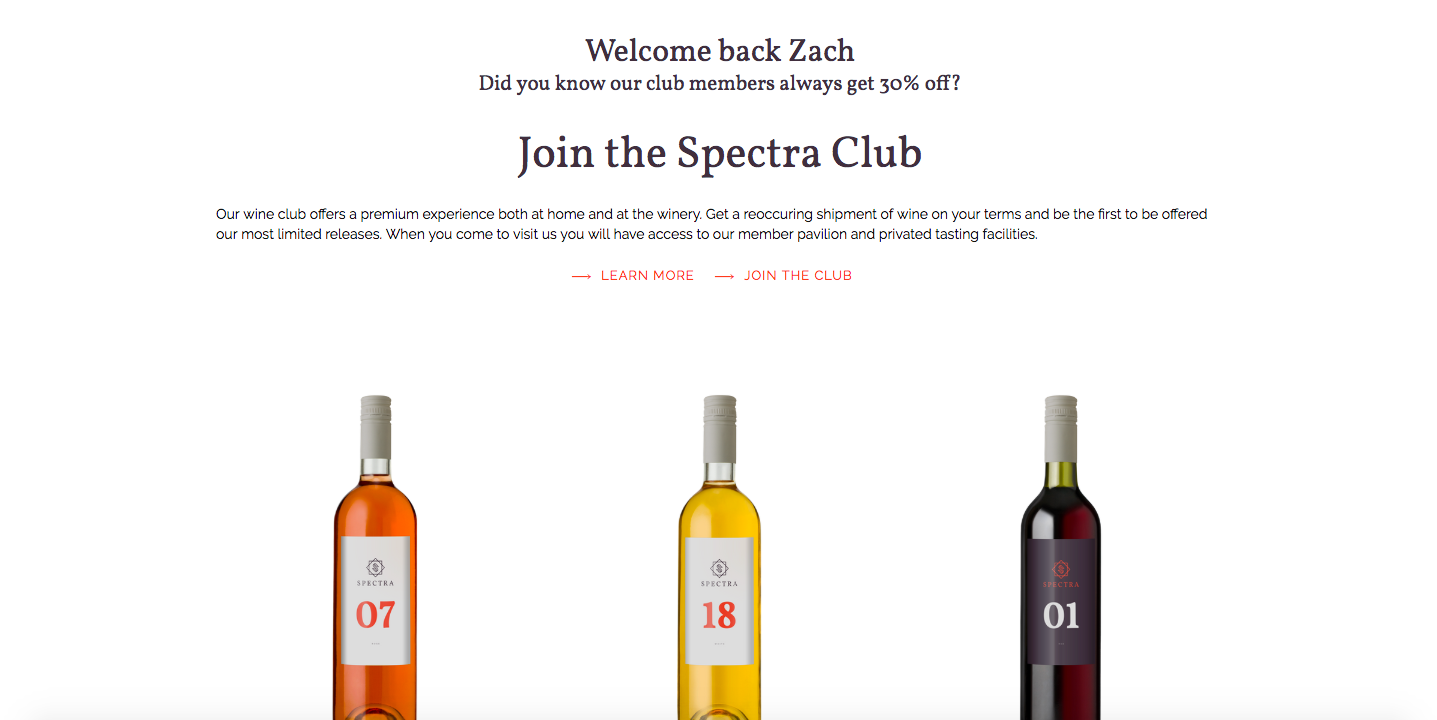 4. View for a club member. We want them to customize their package as easily as possible - so we show it to them right up front.
Personalization Variable Definitions:
Subscriber - A subscriber is a customer that has filled out the subscribe form widget on your website, or has an existing customer record with the "email marketing status" field set to "subscribed".

First time customer - A first time customer is a customer that has completed one order (on any sales channel) with your brand.

Repeat customer - A repeat customer is a customer that has completed two or more orders (on any sales channel) with your brand.

Never purchased - A customer in this category has an existing customer record, but has never made a purchase.

Club member - A customer in this category belongs to one or more of your clubs.

Anonymous - This is a website visitor who is not logged in (either because they do not have an account, or they have an account but are viewing your website from a new device). When a visitor comes to your website, if they have ever made a purchase before or ever logged in before on the device they are visiting with, they will automatically be logged in when they return (this is a cookie based login). For this reason, it is possible that an anonymous visitor may have an existing customer record but is visiting your site from a new device. The most likely scenario is that an anonymous visitor does not have an existing customer record.

Everyone - All website visitors.
Customer birthday - This variable allows you to dynamically show content to customers who have their birthday today, or birthday within the current month.

Customer rank - Customer rank is a rank out of 100 that lets you know how engaged a specific customer is with your brand (0 being the lowest level of engagement, 100 being the highest). This rank is determined by an algorithm we've setup that includes criteria related to lifetime value, last order date, last visit to your website, etc.

Customer LTV - Customer lifetime value based on DTC orders made through all sales channels.

Customer last order date - The last date the customer made a purchase.

Club membership - Clubs the customer belongs to.

Group - Groups the customer belongs to.