Can I edit a reservation after the payment has been captured?
To ensure your data and reporting is accurate, any fields that you can edit on a reservation can also be done on a reservation after it has captured payment and checked in, but before closing out the reservation. For example number of guests, locations etc.
If payment has already been captured and you increase the number of guests on the reservation, the credit card on file will not be charged. If you have to collect payment for these additional guests we recommend processing a transaction through the inbound or POS channel.
Reservations can't be edited once the reservation has been Closed Out.
To search and edit a reservations, navigate to Reservation tab > select the search symbol the top

Next, use the search bar or filters to sort and select the reservation you want to edit.
Once you have selected the reservation, then select Edit under each section to adjust the information. Add internal note, add manual tags or choose a third party request.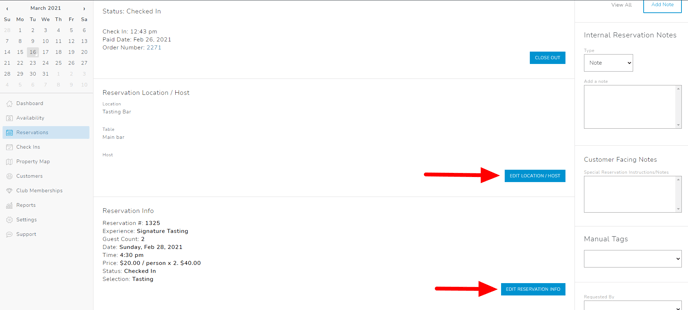 Once you have made the edits make sure to select Save.
For more information about reservations review our documentation on Getting Started with Reservations in Commerce7.