Adding discounts to campaigns
How to add a coupon to a campaign email and how discounts with campaign emails.
When creating a campaign, a coupon block can be edited or added to bring in a pre-created coupon from your store. This will allows you to showcase a product discount to all customers that qualify.
If you choose the option to Show Price, the product will display with the original price and the discount price. The discount price will only show to customers that qualify for the discount. This means, you can send and email to a customer tag containing customers that qualify and customers that don't qualify and only customers that qualify for the discount will see it.
When qualified customers select the Add to Cart button from the email, it will bring them to a new cart on your website with the coupon already applied.
Campaigns only work with Coupons. Promotions cannot be added to Campaigns. If a customer qualifies for both the coupon in the email and a promotion, they will receive both discounts at checkout (as long as these are in a promotion set together).
Adding a coupon to an email template
You can either edit an existing coupon block or add a new coupon block to a template. For steps on how to add a coupon block to a campaign, review our documentation on editing campaign templates.
Click into the coupon block to open the editing window.
Use the search field to type the title of the coupon you want to add or select Search and it will populate the first five coupon titles.
Check the option to Show Price and once the coupon is added you will see the price display with the discount.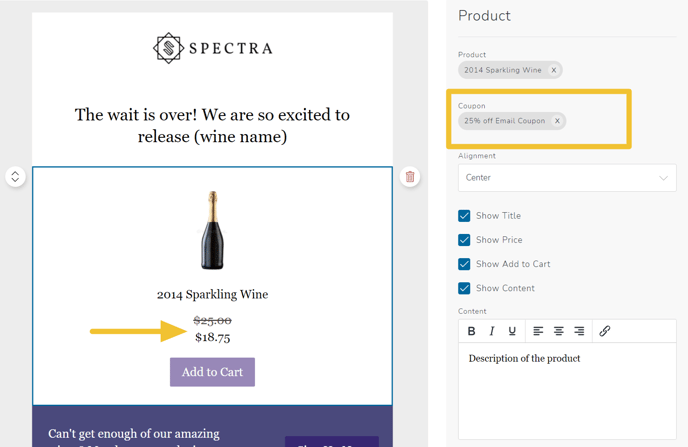 When a customer clicks the Add to Cart button from the email, it will direct them to your website cart containing the product with the coupon automatically added.