In Commerce7 you can create Carrot Messaging on your cart. Cart Carrots are messages that appear in the cart and are meant to entice or incentivize customers to complete an action such as increase the value or bottle quantity on their order in order to receive a discount or to promote another product for purchase.
For example if a customer has 5 bottles in their cart, a cart carrot message will appear in their cart to let them know if they add one more bottle they qualify for free shipping.
For more examples of when to use Cart Carrots, click here.
Setting Up a Carrot
To set up a carrot, navigate to the Marketing Tab and then select Cart Carrot.


From here you have three options for where the carrot will appear;
Once you have selected one of the three options, then select "Add Cart Carrot".
Start with giving the cart carrot a Title, this is internal and not customer facing.
Next, choose the Type, either General Content (ie. Add 6 Bottles For Free Shipping) or Product Upsell (Add On A Beautiful Gift Box to Your Order). When you select Product Upsell, a search bar will populate to search the name of the product. Only one product can be selected for each cart carrot.
Next, add a Sort Order. The system will only show ONE cart carrot in each section (ie. side cart top, side cart bottom and cart page inline). The first cart carrot to match the criteria will apply. Set the sort order on your cart carrots accordingly.
Now you can add your Content, this is where you can add your action message that will appear in the customer cart.
Note: You can also add images to this content section if you wish.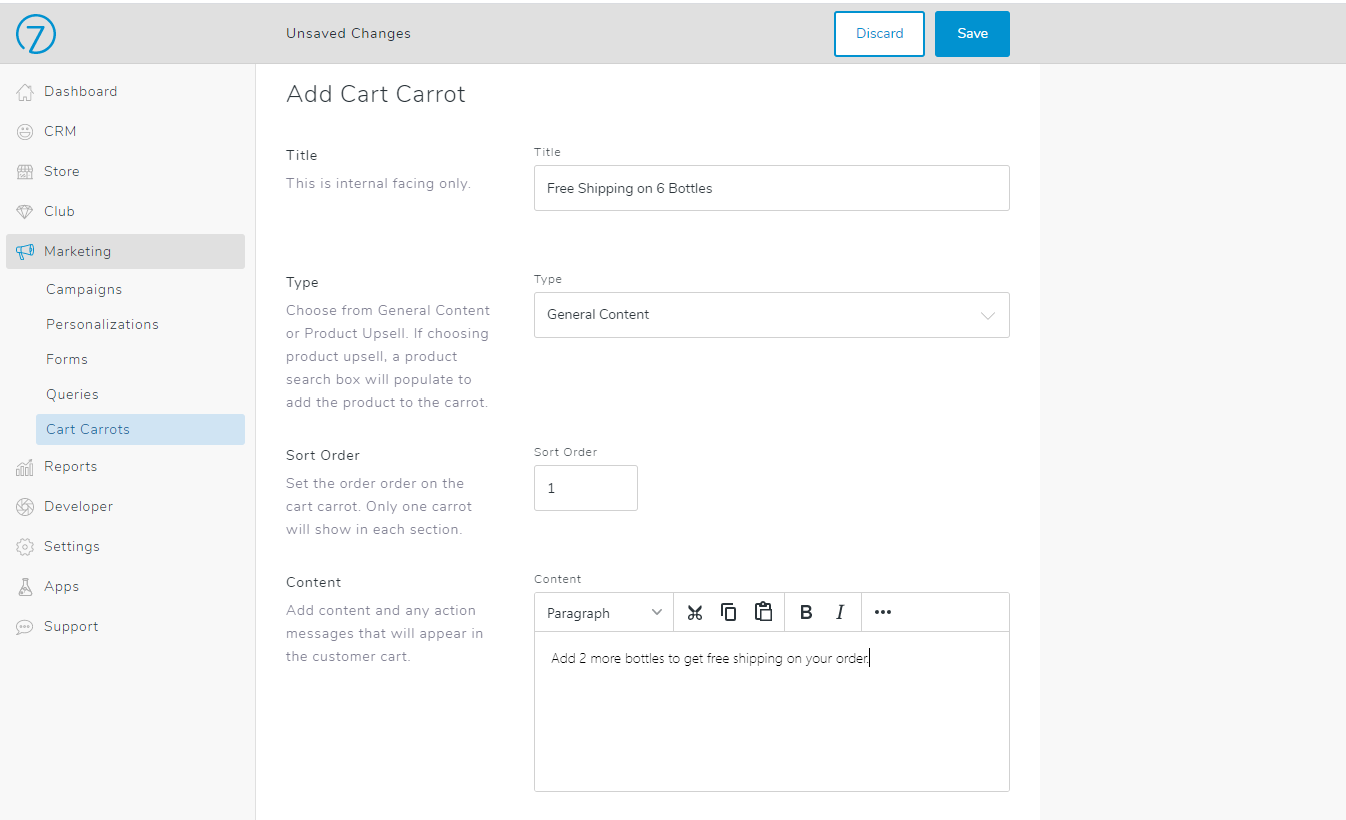 Start adding the Conditions for when you want your carrot to show up. Be sure to select if you want the option block to match ALL conditions that you create, or ONE OR MORE of the conditions.

Next, use the drop down menu to create condition parameters. If you want you can select "Add Another Condition" to create another line of conditions.
Condition options are;
Cart Item Count
Cart Sub Total
Customer
Customer Birthday
Customer Rank
Customer LTV
Customer Last Order Date
Club Membership
Coupon in Cart
Promotion in Cart
Sku in Cart
Tag
Once you have all your conditions you can select "Save Cart Carrot". You can create multiple cart carrots for each, use the sort order to control the order they are displayed on the cart.
Side Cart Top
This will appear in the side cart at the top. See example below;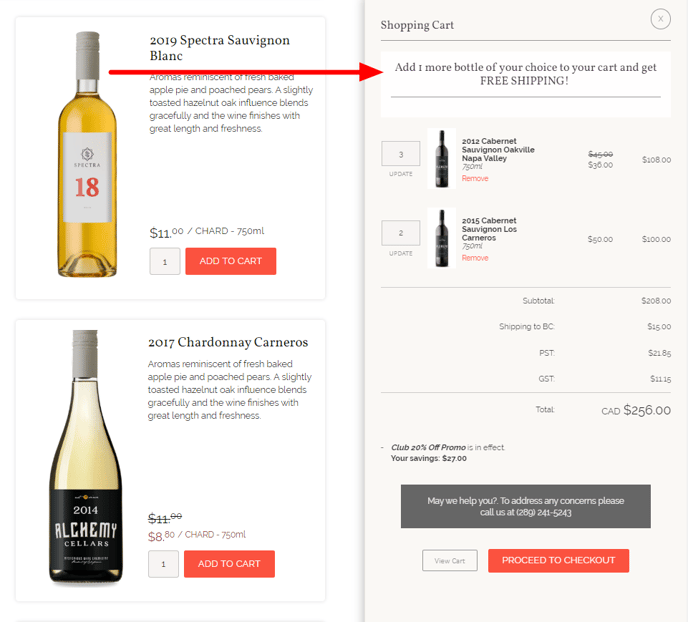 Side Cart Bottom
This message will appear in the side cart, at the bottom. See example below;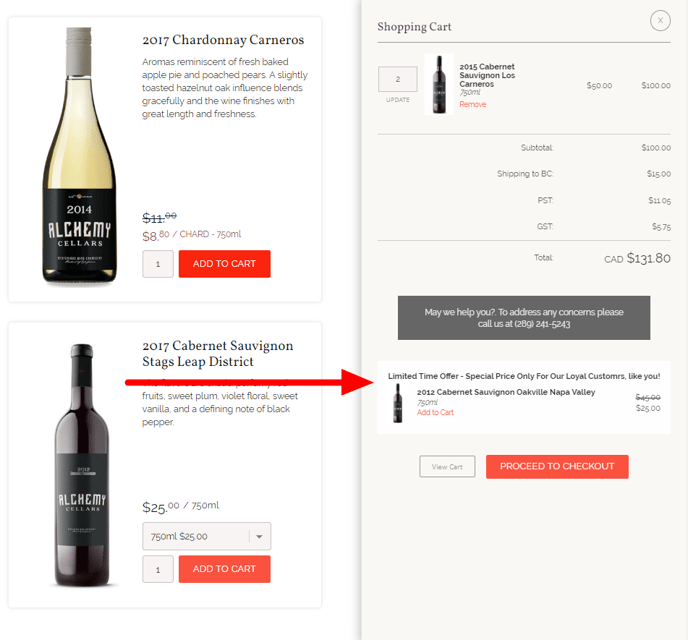 Cart Page Inline
When you select "View Cart" this message will appear. See example below;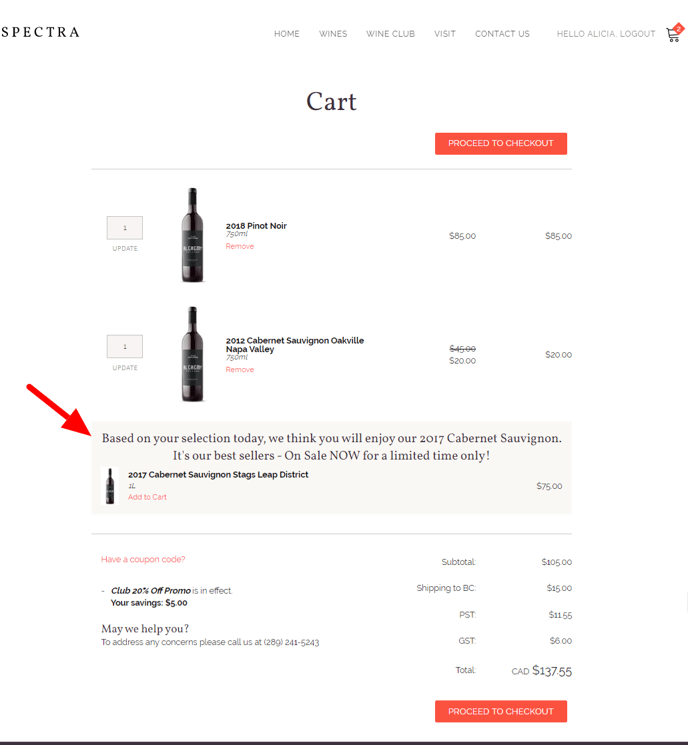 Cart Carrot Examples
Here are a few examples of when a cart carrot could be used.
If you think you have a scenario where a cart carrot could work, but are unsure, please don't hesitate to email support@commerce7.com!
1. Incentivizing a customer to add more bottles to their order so they receive FREE shipping.
2. Promoting an 'Add-On' product in the cart such as a Gift Box.
3. Offering your customers a special coupon code for their birthday or birth month.
4. Promoting additional products you are promoting or have 'on sale.'
5. Incentivizing a customer to add more bottles to their order so they receive a product discount.