How Do I Create an Ad Hoc Reservation?
An Ad Hoc Reservation is a reservation that can be created at anytime, anywhere, with any guest count.
For example, if you have an experience that can only be booked for a max group of 5 people on weekends between 11:00 p.m. to 3:00 p.m., an Ad Hoc Reservation will allow you to book that experience on a Tuesday at 7:00 p.m. for 10 people if you wanted.
By default, Ad Hoc reservations give you flexibility above and beyond your preset restrictions under Settings.
To create an Ad Hoc Reservation, first navigate to the "Availability" section of the reservation module. Then click "Ad Hoc Reservation".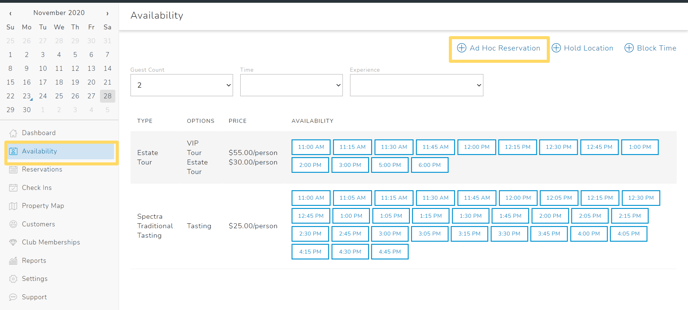 If you have multiple reservation types, use the drop down menu to select the reservation type you would like to book.

From here you can build your reservation as you'd like by filling in the fields to complete the reservation. Then select "Save Reservation"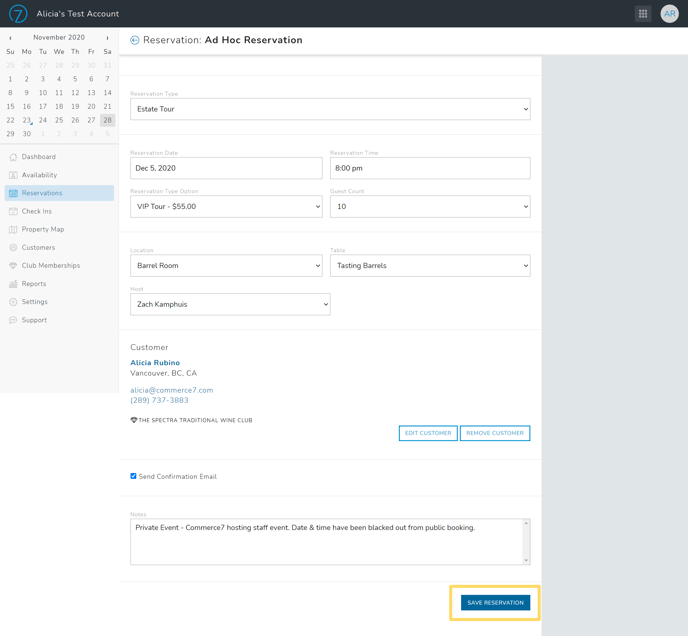 After saving the reservation, you can review, edit and add payment information.
You can add a credit card on file under the customer record or add a new credit card.
Payment will automatically capture 48 hours before the reservation. If the reservation is booked less than 48 hours before the reservation time, it will capture payment 1 hour after the booking.
Note: A reservation has to be "complete" before automatic payment will be captured. A reservation requires a customer, billing address and payment type (ie. credit card) to auto-capture payment.
NEW: Reservations will now auto-capture payment WITHOUT a host assigned. For more details on how reservations are charged in Commerce7, please click here.
Ad Hoc Reservations are managed the same way you would manage other reservations.