Commerce7 allows multiple addresses to be added and stored under a customer's profile. To view addresses for a customer, click Customers > select a customer > then click the Profile tab > then click the Addresses subtab.
Here you'll see a list of all addresses for this customer. If a customer has multiple addresses assigned to them, the address denoted with the asterisk (*) is the default address.
Adding an address
While on the customer profile under Profile > Addresses, click Add Address. This will launch a modal where you can enter a new address.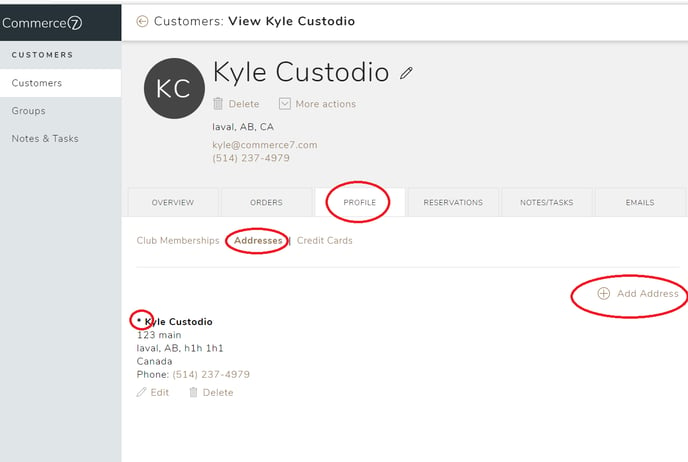 ---
Setting a default address
If an address is set to default, for new orders or club signups it will be selected by default for both the shipping and billing fields.
While the order or membership is being created, you or the customer will always have the option to change the address from the default. The system will allow you to select a different address on file or add a brand new address.
It's important to note that just because an address is set to default, does not mean that it's actively being used on Club Memberships.
Under Customer > select a customer > then go to the Profile tab > and click the Addresses sub-tab.
Click Edit on an existing address or click to add a new address.


For each address, there will be a checkbox for Default Address. Check the box and click Save Address. (There must always be one address set to default.)

---
Selecting an address on an admin order
To place an order, click on Store > Orders > Add Order > search for the customer.
Under Shipping Address, click Edit.


By default, the shipping and billing addresses will auto-populate with the address that is marked default on the customer record.
You can either select from a different address on file under the customer record, add a brand new address, or even make this order a pickup.

Click Edit under Billing Address and follow the same process as above.

Proceed with the rest of the order.
---
Selecting an address on a web/online order
When a customer places an order on your website, during checkout they have the option to complete the shipping address form or select 'I prefer to pick up my order' and complete a pick up by form.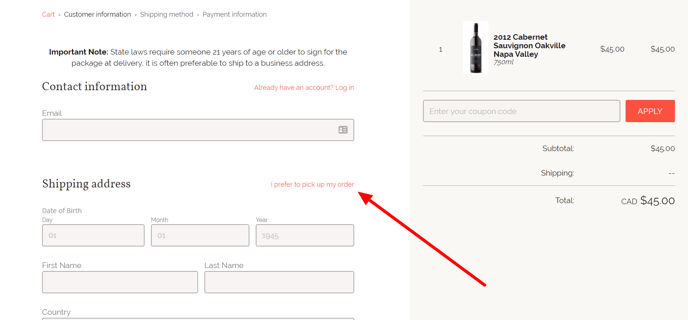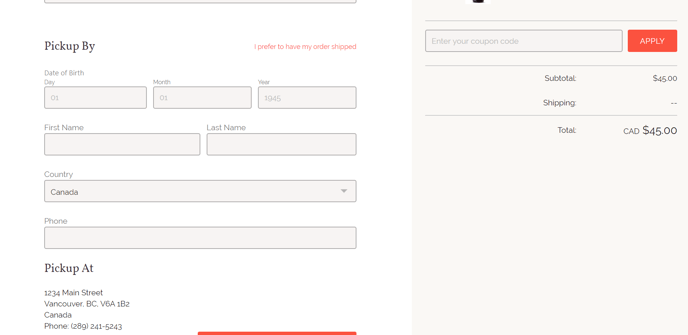 If your customer has an account already and they are logged in, they will have the option to edit their shipping and billing address by choosing from the drop-down menu.

---
Selecting an address for a club membership (in admin)
Click Club > Memberships > click on the member that you want to edit.
Click Edit under Shipping Address

By default the address set to default under the customer record will auto-populate for both billing and shipping.
At this point, you can either select from a different address on file under the customer record, add a brand new address, or make this member a pickup member.

Click Edit under Billing Address and follow the same process as above

Proceed with the rest of the club signup or continue editing your membership if applicable