In this article:
---
Creating an Allocation

The allocations module is located in the store section of the admin panel. Here you can view all existing allocations, and create new allocations.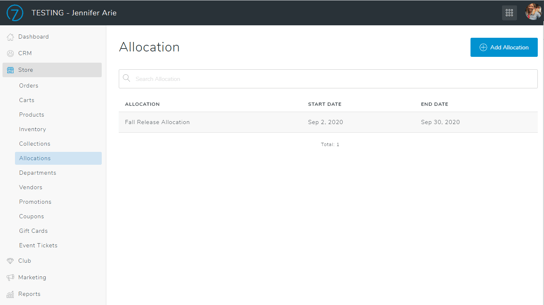 When creating a new allocation, first setup a title. This title is customer facing. Next setup a start and end date for the allocation. This date range will be the range in which a customer can view and purchase their allocation.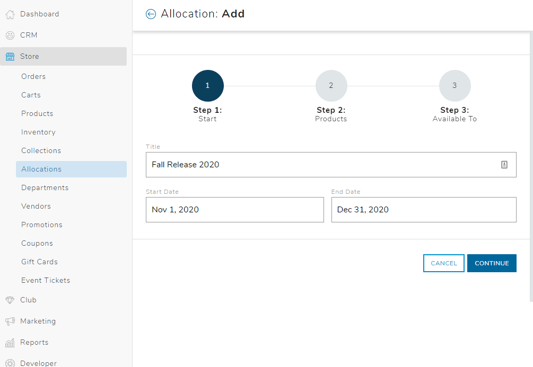 Afterwards, build out your allocation offering. You can search through your skus to select products you wish to include in your allocation.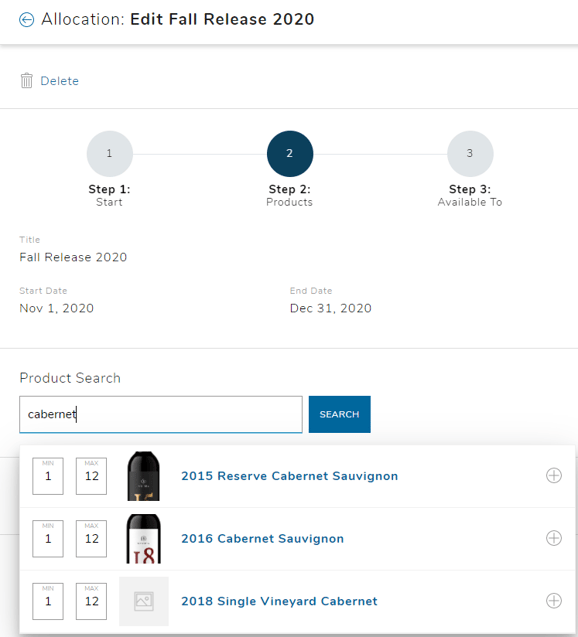 You can set the minimum and maximum quantity an allocation member can purchase for every product by editing the product in the allocation page.
After setting up the offering, the next step is to configure who will have access to the allocation.
Allocations can be made available to different club levels, pre-setup customer tags, and individual customers.
Note: Allocation availability (security) doesn't apply on POS or Inbound Orders.
An allocation can be available to different club levels, customer tags, and customers at the same time.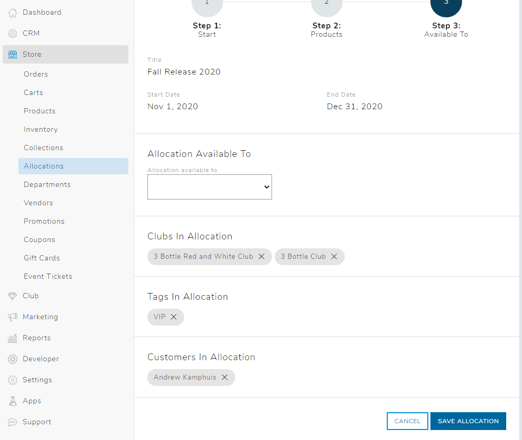 Once you have specified who the allocation is available to, click "save" and your allocation will now be setup.

Allocation members will now be able to see their offering on your front end site.
Allocation products are just like regular products in that they live inside collections. On the front end, customers will be able to see their allocated quantity, purchase within their allocated quantity, and wish for additional bottles.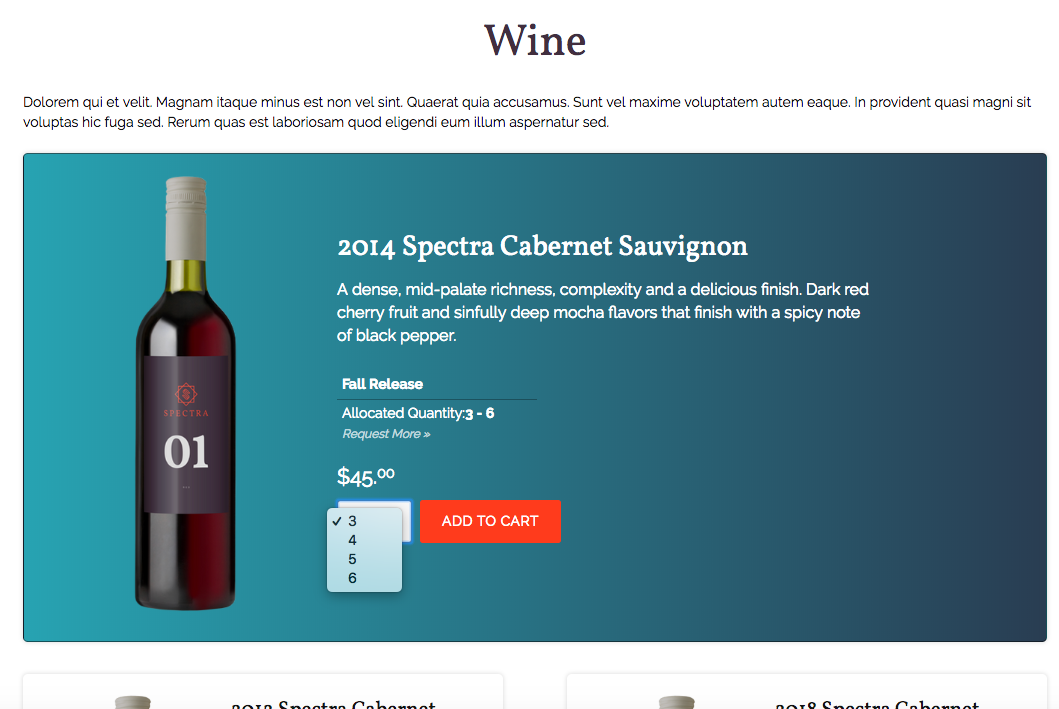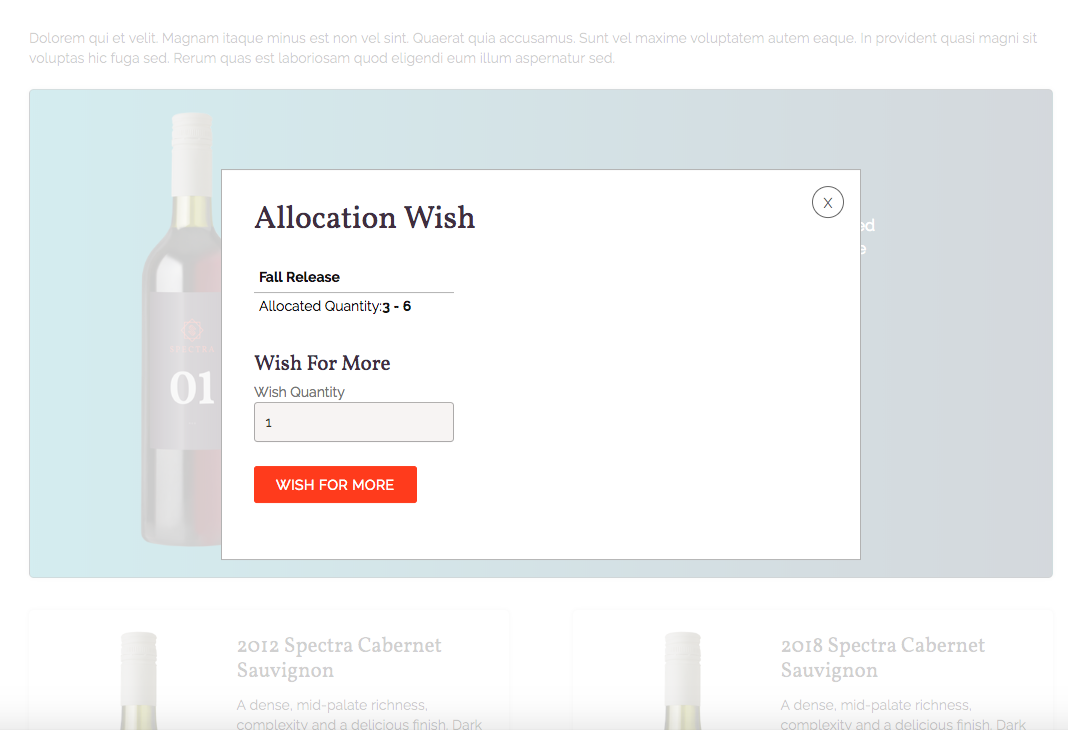 After a customer has made a wish, they will see their "wish quantity" on the front end below their allocated quantity.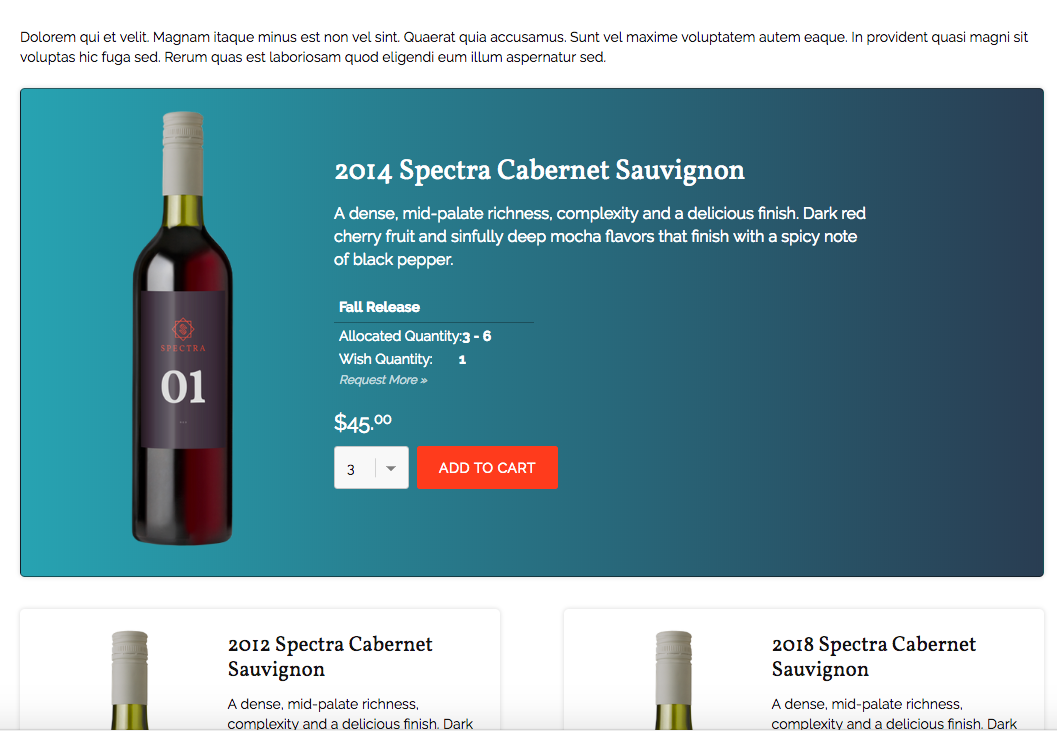 Allocation member wishes appear in the back end as well. In the wishes tab of your allocation you can see all wishes that have been created by customers, and you can also add in wishes from the back end.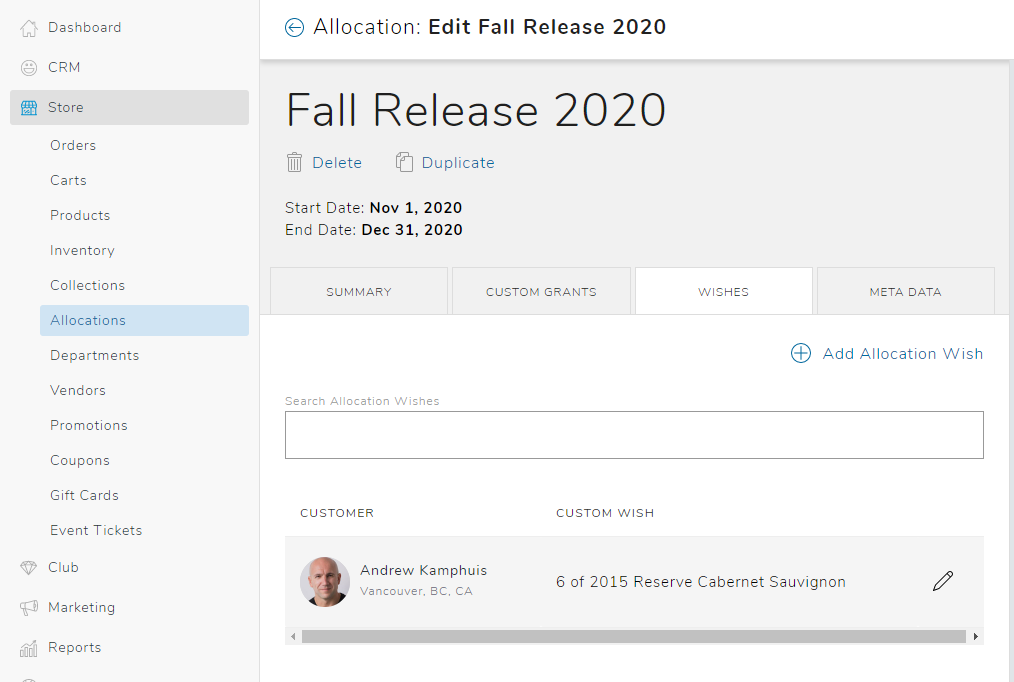 If a customer contacts you by phone or in person and requests or "wishes" for a higher quantity, you can input that wish in the back end.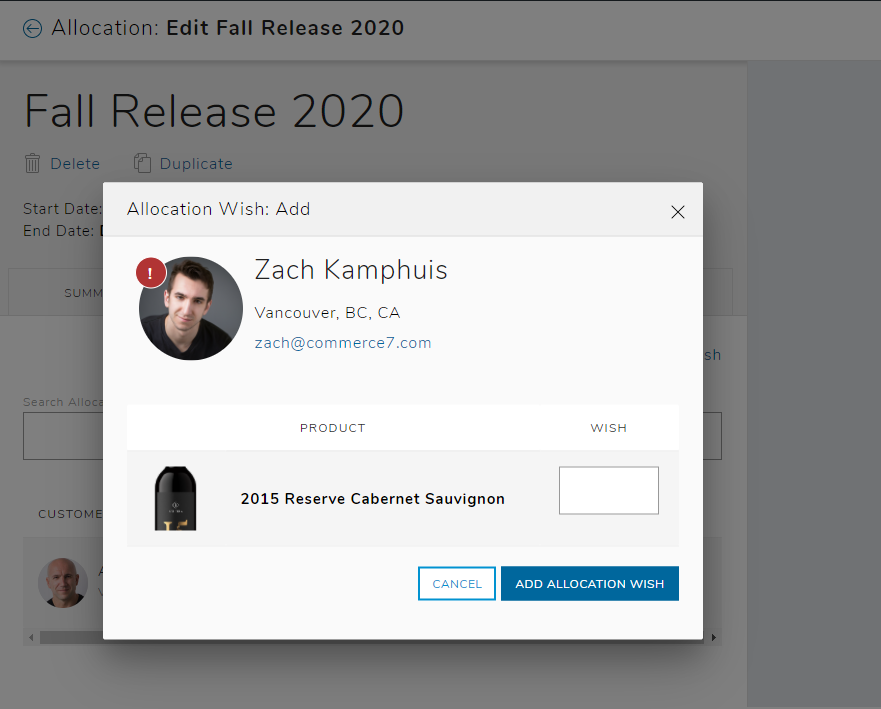 In the back end you can also setup custom grants. A custom grant can be a grant to a "wish" or it can be used if you had a VIP in your allocation group and you wanted them to have the ability to purchase more wine then their standard allocation.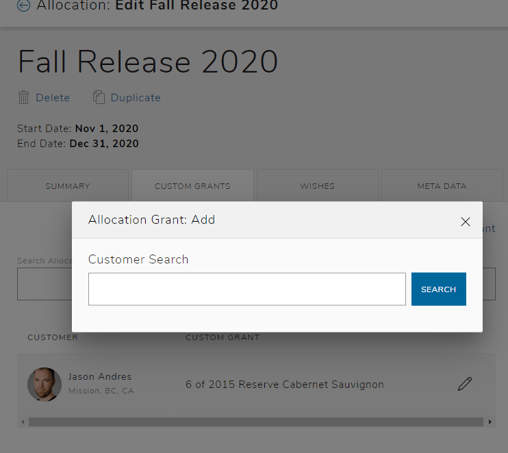 Grants will appear on the front end, so members will know they are able to purchase above and beyond the standard maximum allocated quantity.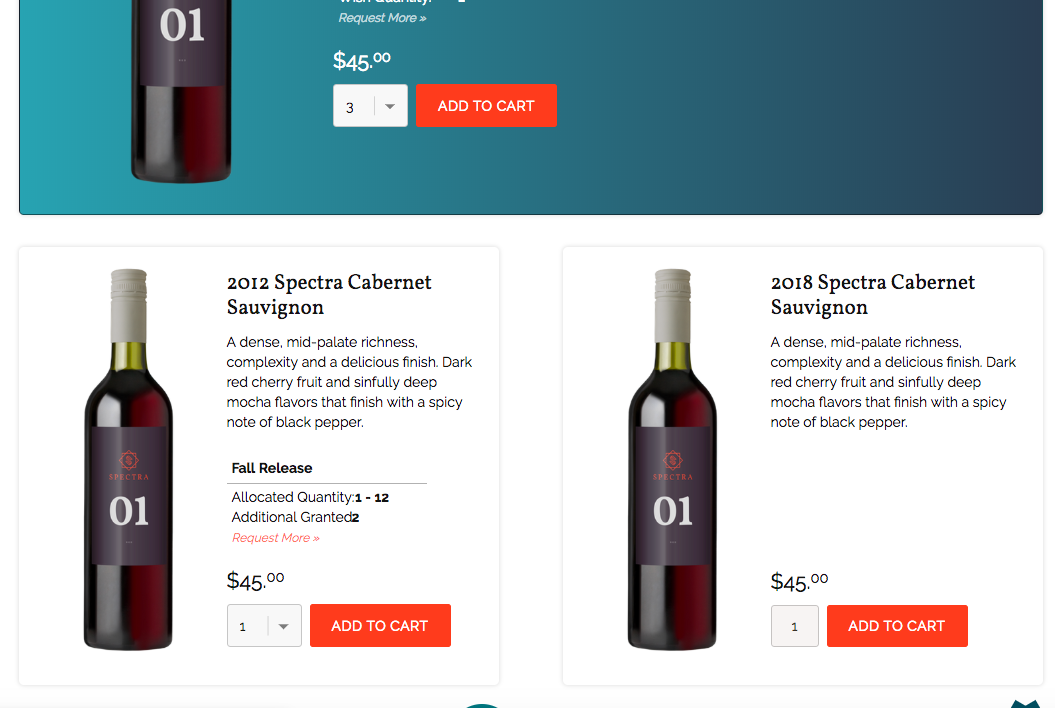 By default, when a non-allocation member arrives at a product page with an allocated product on it, they will be able to see the product but will not be able to purchase.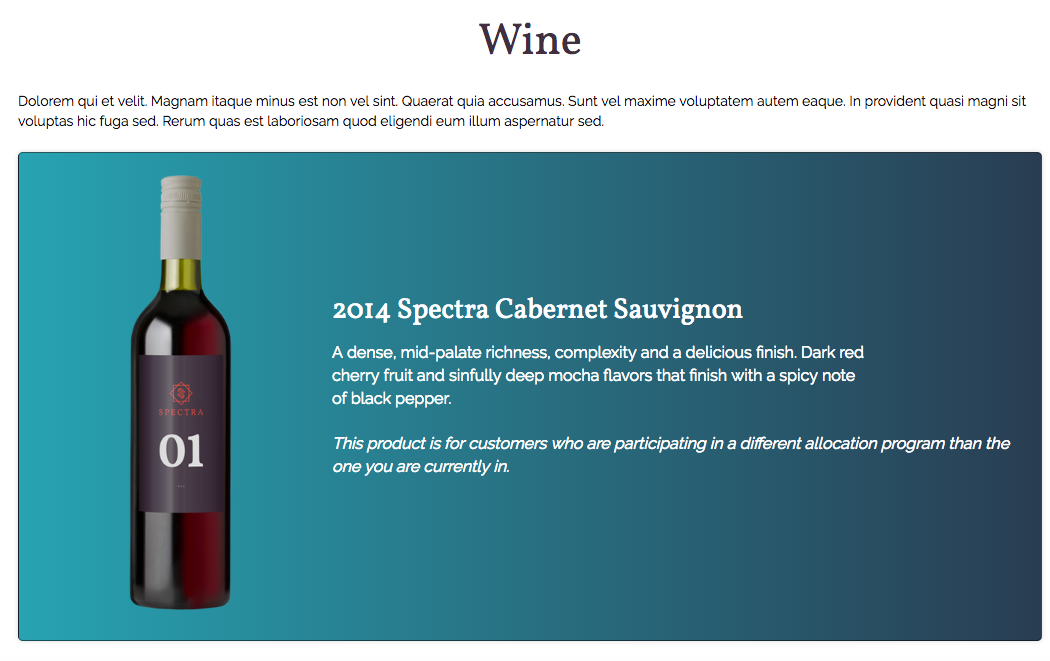 When a guest comes to your site they will be able to see the product, will not be able to purchase, and will be prompted to login.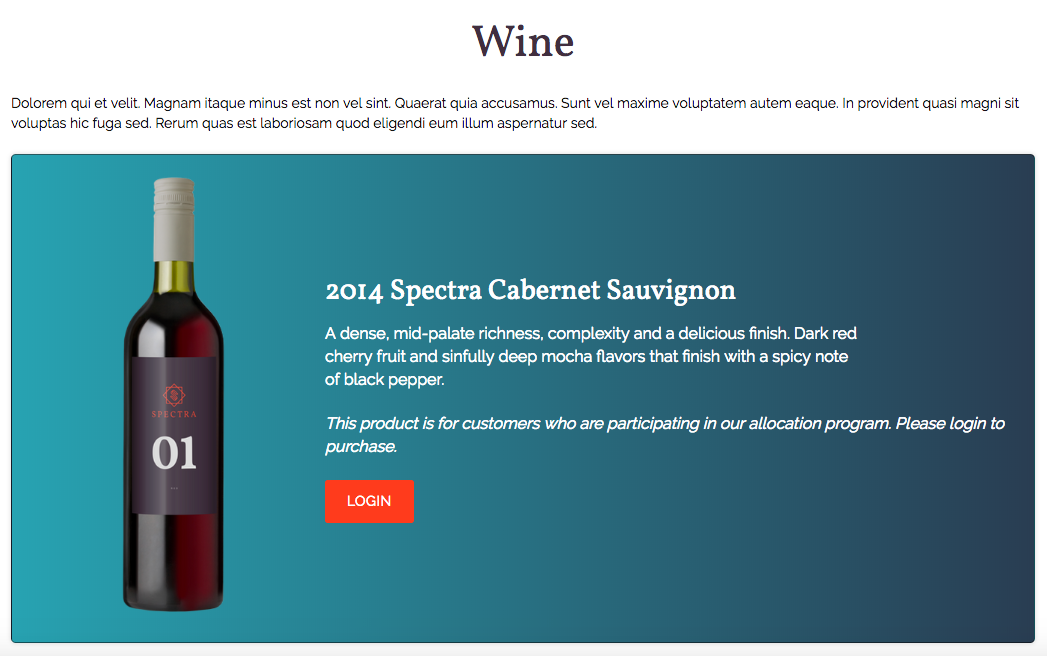 If you would like to hide allocated products from non-allocation members, simply go to the product page of the allocated product in the admin, scroll to the bottom of the product page, and change the "when not logged in" policy to "don't display product". Remember to save after making this change.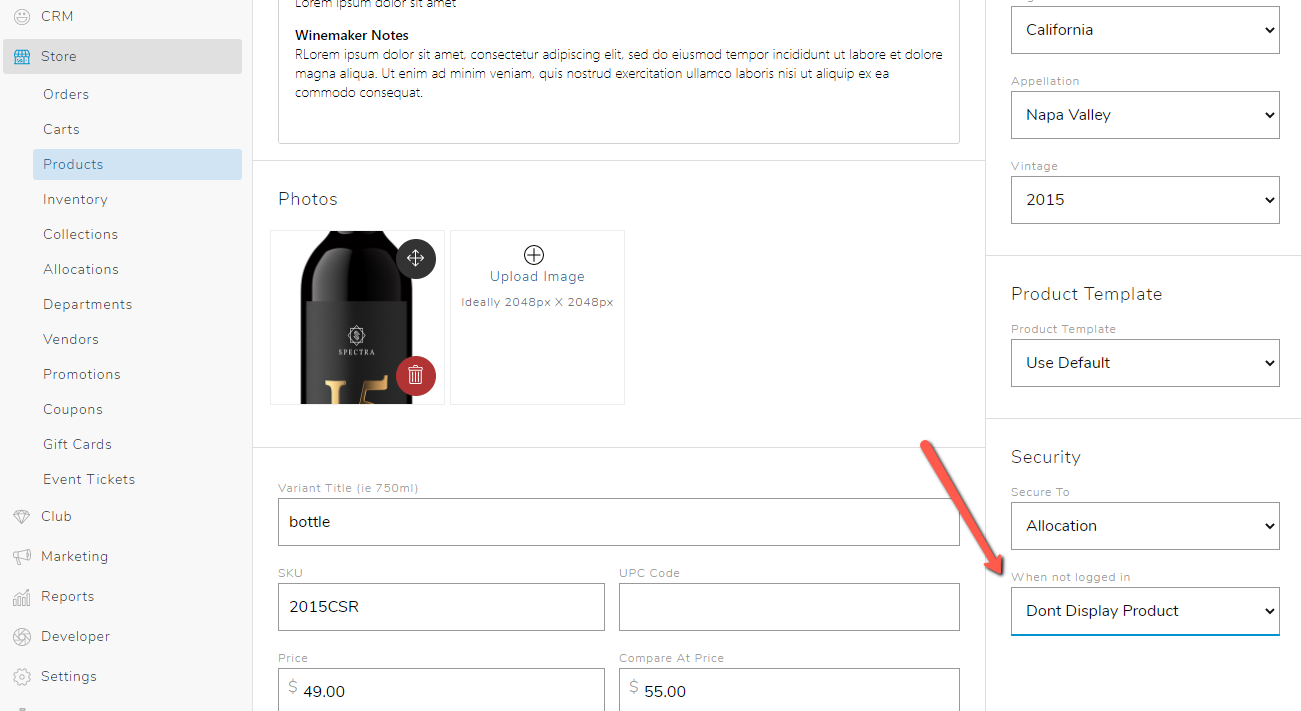 ---
Removing Products from an Allocation
When you want to remove products from an allocation start by removing it from the allocation. Navigate to Store > Allocations > select the allocation and under 'Products in Allocation' select 'Edit Products in Allocation' and then select the minus sign under the product title to remove it from the allocation.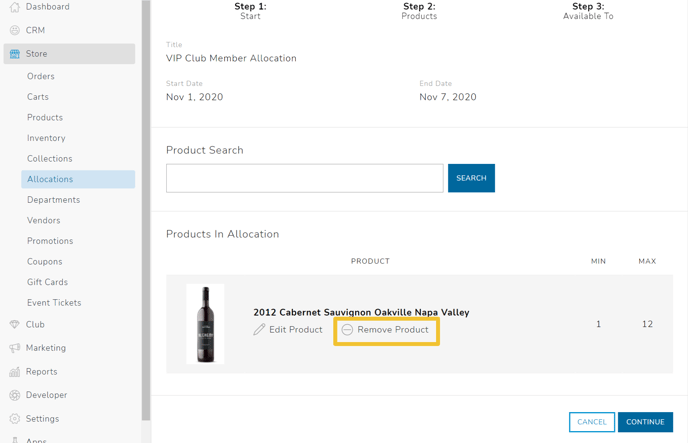 Next, remove the allocation security from each product that you no longer want allocated. Navigate to Store > Products > search and select the product and scroll down to the bottom to the 'Security' section. Use the drop down menu under 'Secure To' and select 'Public' and select 'Save Product'.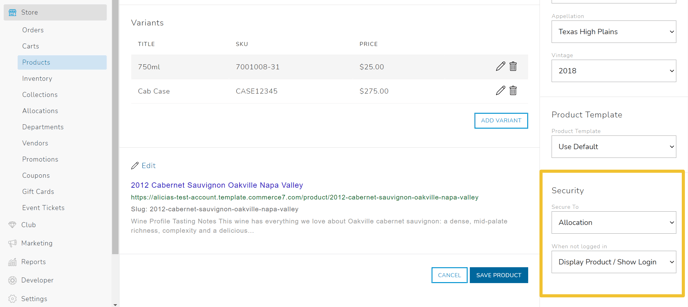 Make sure to change the security to 'Public' on all products that you want to display with an "Add to Cart" button for all customers and no longer secure to an allocation.