Features
Through Frontend V2, we've rebuilt the online experience and introduced many new features for customers online. There are updates across the purchasing process, club signup, reservations, and the customer portal. Read a summary of all of the changes made in Frontend V2 here.
As a developer, here's what you'll want to know:
Apps can now be embedded directly into the order receipt or customer profile area. Learn more here.
Since everything is completely rebuilt, the HTML structure, classes and CSS is completely new. We've added quite a few more classes giving you the ability to target your styles more precisely and make more customizations to the overall look and feel. We've also added CSS variables for styles that we think will be changed most frequently. This will allow you to easily update the general styles without having to dig around and search for specific classes to overwrite.
When creating product templates, you can now output raw data with a handlebar-like syntax instead of using a Commerce7 tag. Learn more here.
We've made some big improvements for accessibility. You'll see more markup specifically for screen readers including hidden text.
---
How to Tell if a Client is on V1 vs V2
Signup Date
All signups after Sept 1, 2021 will be automatically be on Frontend V2. If you signed up before then, then you'll likely be on V1.
Commerce7 Includes
Another way to determine which version is currently in use, is by looking at the Commerce7 CSS being included.

V1
<link href="https://cdn.commerce7.com/beta/commerce7.css" rel="stylesheet">
V2
<link href="https://cdn.commerce7.com/v2/commerce7.css" rel="stylesheet">
Overall Look and Structure
You can also compare the format and structure of the standard Commerce7 pages. While the styling will change from website to website, you'll notice that all V1 websites have the same look and feel.
V1 Customer Portal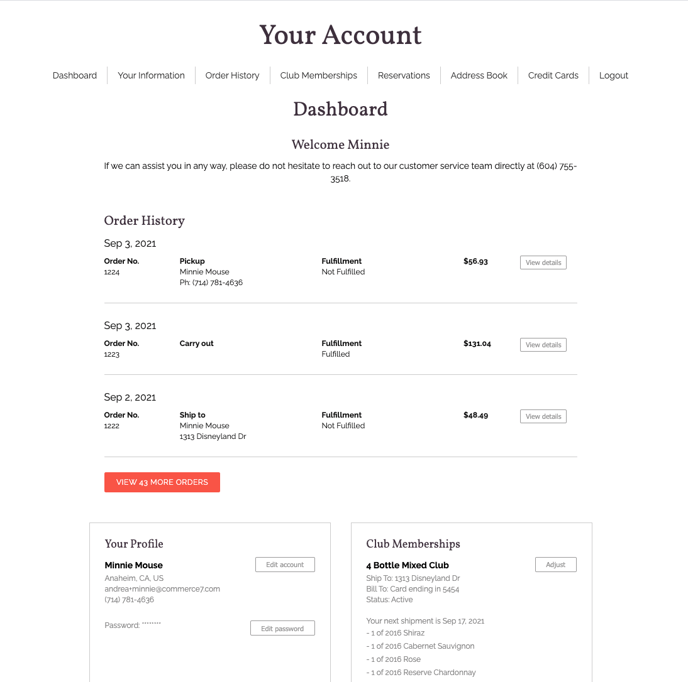 V2 Customer Portal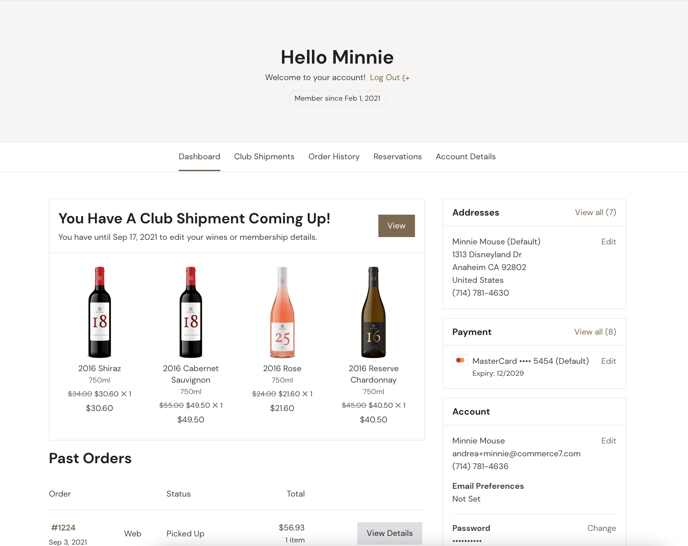 ---
Migrating from V1 to V2
To update a website from V1 to V2, there are some changes that you'll need to make to move them over to Version 2. You can read a full guide about how to migrate a client on the design docs here. If you are a winery, you'll want to contact your designer to have them complete the steps listed.
You'll also need to be using Commerce7 Payments or Stripe (non-US clients) as your gateway. Our current payment solutions didn't support many of the enhancements that we wanted to bring such as GooglePay, ApplePay, and enhanced fraud protection. Commerce7 Payments is a multi-gateway solution that allows us to keep you ahead with a combination of the best technologies. (If you are outside of the US, Stripe will be the preferred solution.)
We'll be posting more about this process soon, but in the meantime you can reach out to support@commerce7.com for any questions that you have or to start the transition process.