Setting up loyalty tiers
Once you have activated your Loyalty Extension under Apps & Extensions in the Commerce7 dashboard, you are ready to setup your Loyalty Tiers.
If you haven't activated the Loyalty Extension under Apps & Extensions, you will not see the Loyalty Tiers options under Settings.
You don't have to have multiple tiers for your loyalty program, but it's a good way to encourage customers to spend more to receive better rewards.
For more information on Loyalty Transactions, click here.
To get started setting up your Loyalty Tiers, click on Settings > Loyalty Tiers.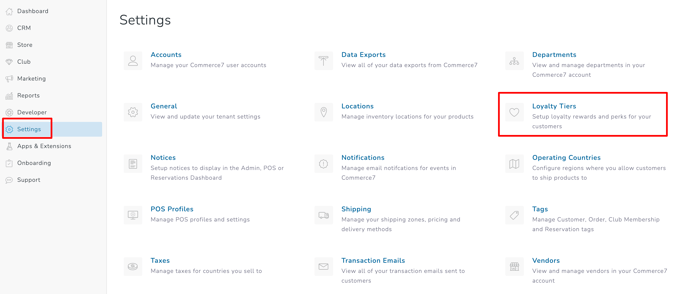 Next, click Add a Loyalty Tier.

The first thing you will want to do is give the loyalty tier a name. This field is admin facing only.
Next, you will need to specify the LTV (Lifetime Value) that will qualify your customers to be added to this tier.
If you are only setting up one tier that is available to all customers, you can make the LTV to qualify $0.
You will now have to setup earn and redemption rates for this tier.
The Earn Rate is the number of points your customers will earn for every $1.00 they spend. For example, for every $1.00 spent, your customer will receive 10 points.
The Redemption Rate is the number of points the customer will need to redeem to get $1.00 decremented from their order. For example, if you want your customer to use 10 points to get $1.00 off their order, the redemption rate would be 0.1.
The Redemption Limit Percentage is the limit on an order that can be paid for with points. For example, if you only allow half an order to be paid with points, your limit would be 50%.
Finally, decide whether or not points can be earned on taxes or shipping. To enable points on taxes and shipping, simply check the box next to each item.

Click Save Loyalty Tier.