Whether you're using a set items club model or keeping it modern with a user choice club, our traditional club processing tools allow you to setup and batch process clubs quickly and with ease!
Read this documentation and learn how to setup and process your next club shipment. This article will teach you the following;
Building A Traditional Wine Club Package:
To set up a club package in Commerce7, navigate to clubs > packages in the admin panel.
Then click "add club package" located in the top right corner of the admin.

STEP 1:
Give your club package a title. This title is internal facing and will not be seen by customers.
Select the club for which your package will belong to.
Select the status of your package. The options are planning, active, and archived.
A package in the planning stage can be configured and edited by Commerce7 admin, but cannot be seen on your front end site by customers. Note: Packages cannot be processed in the planning stage.
A package in the active stage can be seen on your front end site, and can be interacted with by customers. Note: Packages can be processed in the active stage.
A package with an archived status will be removed from your front end site, and customers will no longer be able to interact with it. Note: Once a package is archived it is no longer editable by customers or admin.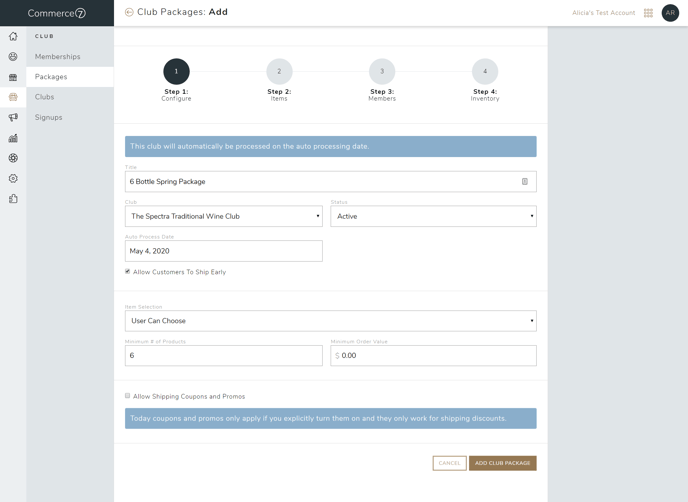 Select a process date for your package. Learn more about Club Auto Processing here.
Optionally you can click "Allow Customers To Ship Early" which will give members the option to ship their club immediately on the front end.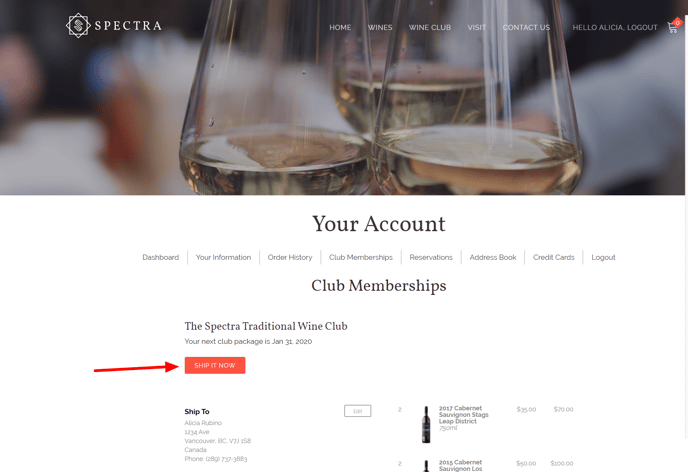 Next you can decide if you're going to have a user choice or a set item package. In a user choice package, within limitations you set, members can customize their club package (add and remove products and change bottle quantities). In a set item package, users are not able to customize their club packages.
Based on the data we've seen from our winery clients - we would recommend going with a user choice package. Our clients who offer user choice packages see an increase in average club package size and dollar value.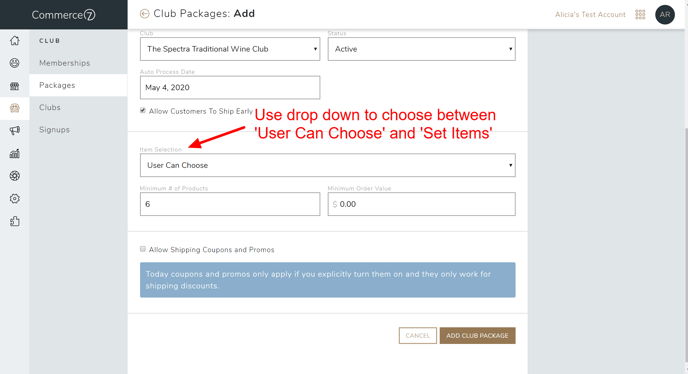 If you are going with a user choice package, by default you will have a minimum bottle requirement of 1. If you'd like, you can increase your minimum bottle requirement. For example, you can allow customers to mix and match bottles in your user choice package, but force members to have at least 6 bottles in their package.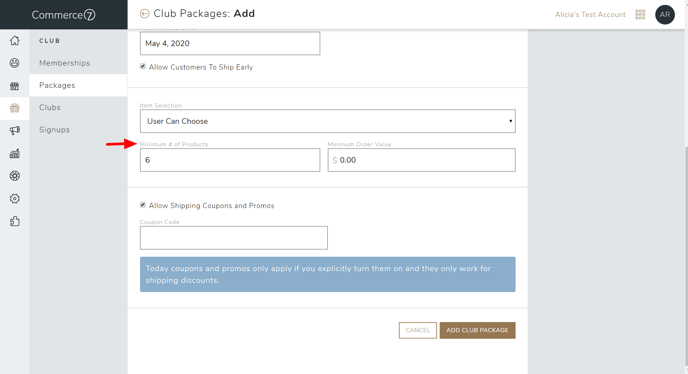 If you would prefer to have a minimum order value (a customer must have X dollar value in their club package) instead of a minimum bottle requirement, simply enter the minimum dollar value. Club members will be able to have any quantity of products in their club package, as long as the club package total is greater than the minimum order value.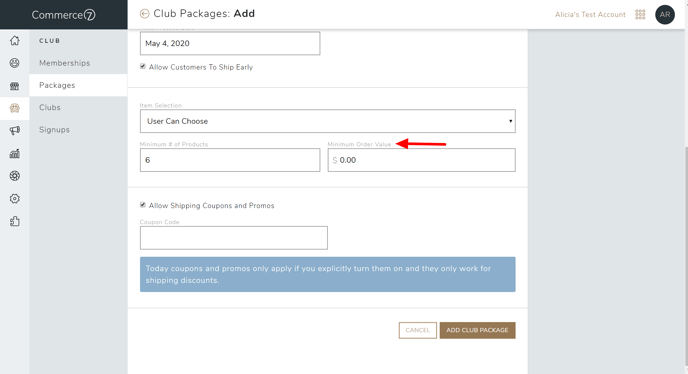 Next, decide if you would like shipping discounts to apply to your club package. If you would, check the "allow shipping coupons and promotions" box. After checking the box, any shipping promotions that can be applied to club member orders in this package, will be applied. You can also enter any shipping coupon code to have it applied to all orders in the club package.
Note: Product discounts do not automatically apply. You will add your product discounts in step 2.
When you are finished configuring these options, click "save club package".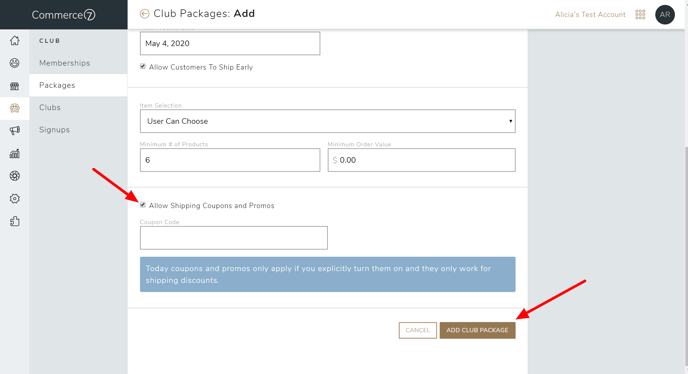 Selecting "Add Club Package" automatically takes you to step 2.
STEP 2:
Step 2 is where you can build your offering. You can search through your products by product title to add a given product to your offering. Select a product from the drop down menu to add it to your offering.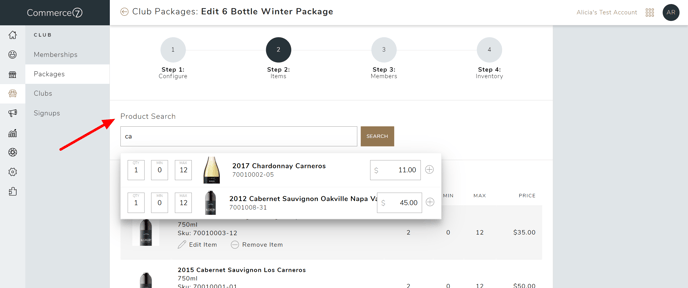 After selecting a product, you can edit a product to specify the bottle quantity and club price for the given product.
Product discounts DO NOT apply to club orders. To give your club members their club discount, you must edit the product in the package and manually change the price.
If you have opted to go with a user choice club, you can specify the default, minimum, and maximum bottle quantity for the given product.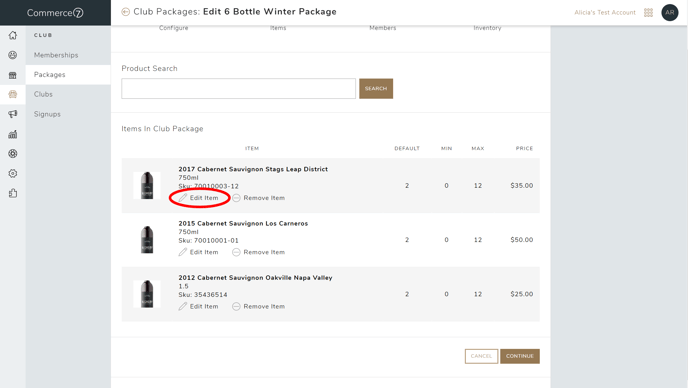 In a user choice club, when a customer is customizing their club package, they will not be able to remove a product if said product has a minimum quantity requirement. They will also not be able to add quantity above a product's maximum quantity limit. The initial package they customize will contain all default products and quantities. If a club member opts to not edit their user choice package, they will receive the default products and quantities when their package is processed.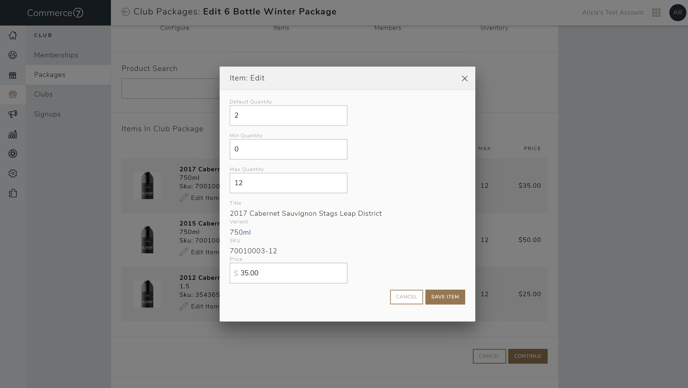 After setting up your offering, scroll to the bottom of the page and click continue. This will take you to step 3 - the member section.
STEP 3:
Click "add all" to add your club's members into the given package.

From here you can edit any members shipment on their behalf, skip anyone's shipment for them, or process anyone's package early. Issues on club processing has a new display to more clearly highlight the issue.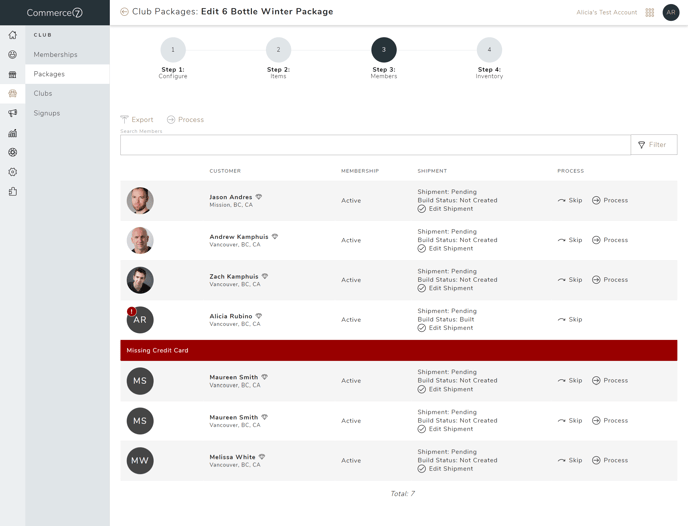 In this section, you can also filter your members by a variety of different options.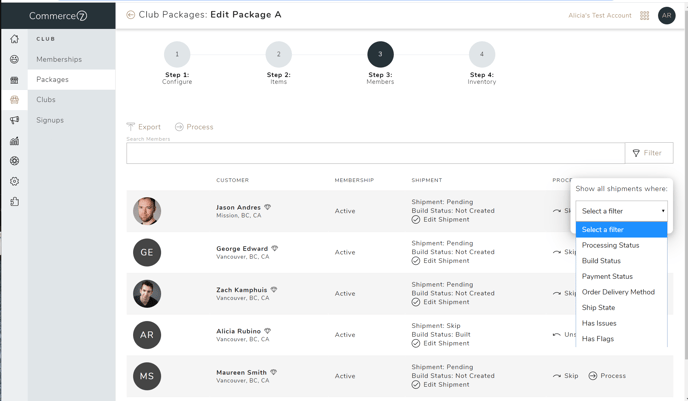 STEP 4:
An inventory page showing you the inventory required for the products in your package for better inventory forecasting.
Required Quantity: Current quantity of products needed for this club package.
Available for Sale: Current overall inventory that is available for sale for that product.
Include Skipped Packages: If this is checked off, inventory for all skipped packages will be included.
Include Completed Packages: If this is checked off, inventory for all completed packages will be included.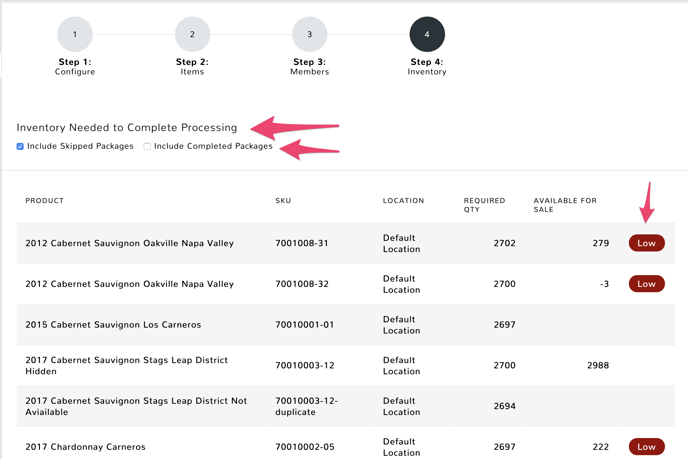 Before processing your club - please make sure your club is set to "active" in step 1. You cannot process a club in the "planning" stage.
When you return to Step 1, you will see the communication panel on the right. Learn more about How Do I Set Up Club Emails here.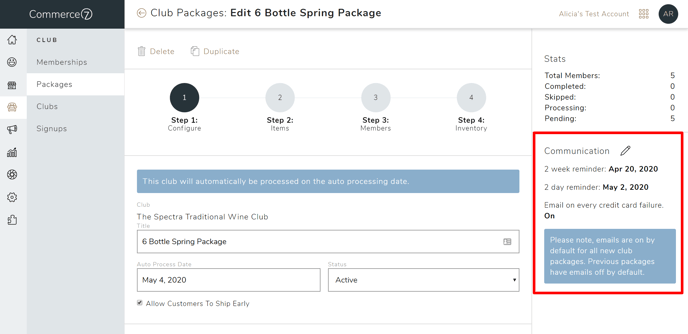 Processing a Club Package
To manually process a traditional club package, return to Step 3 and select "process" when you are ready to run your club. Clicking this will turn all club packages into completed orders and will charge all credit cards associated with the club member packages.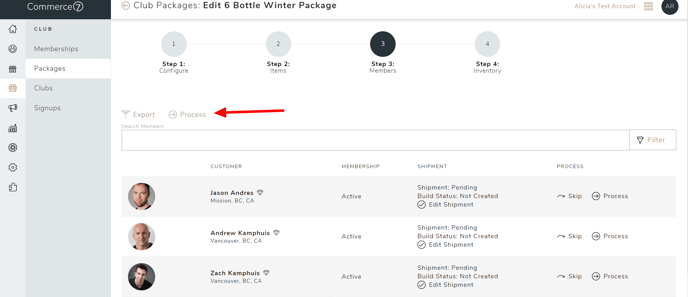 All club orders that were processed will appear in the orders tab of the store section in the admin panel.
If you are using ShipCompliant - all club orders will automatically be pushed to ShipCompliant.
Adjusting Club Packages
When Wine Club members sign in they will see upcoming shipments under the Club Memberships tab. Depending on the club package settings (user choice and ability to ship early) the customer can select to have the club package shipped now and/or make adjustments to their next shipment.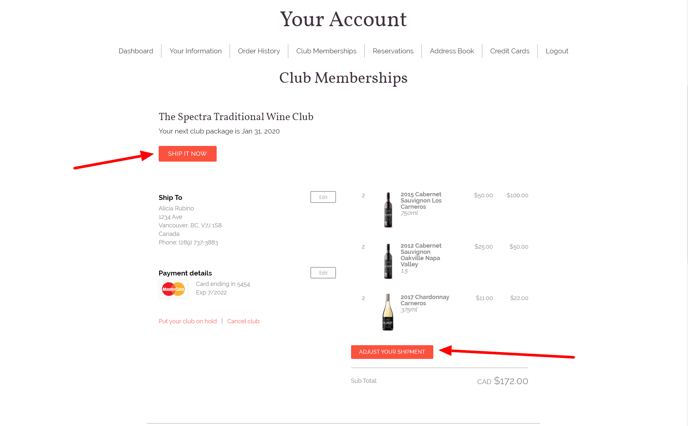 When a customer selects 'Adjust Your Shipment' they can easily edit the quantities of the bottles in the package and add other products to their next club package shipment.

For user choice club packages - club members can edit a package until 11:59 p.m. the day before the process date and make edits to their club package (based on the timezone in the admin panel)
Example: if February 5 is your process date, club members can edit their package until February 4 at 11:59 p.m.
Skipping a Club Shipment
As the admin you have the ability to skip a club package for a club member before the process date, by returning to Step 3 and selecting skip on the individual club member.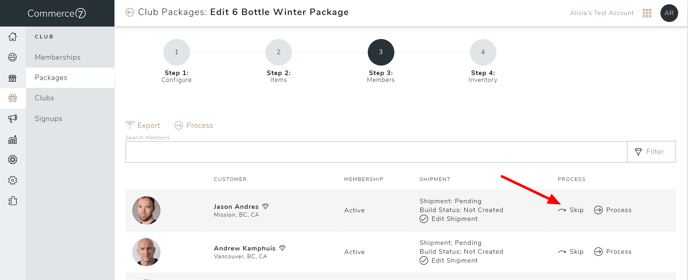 You can easily reverse by selecting 'unskip'

A club members package can be edited after the process date.
NOTE: The process date on a package should never be changed.
Holds
As of today a customer and admin have the option to put a club membership on hold. However, in late January 2020 the hold option will be removed. The option to skip the upcoming club package will be available to customers on the front end and admin will continue to have the skip option like shown above. Documentation will be updated and added once this feature is available.
How to Put a Membership on Hold