Orders & Order Management
POS Payment FAQs & Best Practices
Commonly Asked Questions
---
Q: I've sent the wrong amount to my device, what now?
It is very important that you DO NOT TRY TO GET OUT OF THE POP UP WINDOW. Please do not refresh the page, hit the back button, or open and close your browser to get out of this pop up window.
A: Select "Cancel" on the device to return to the order on the POS.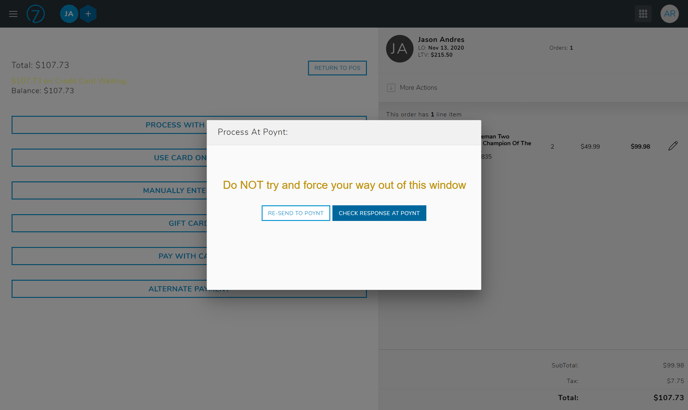 Q: I have a cart stuck and I am getting the Error from Server: "Cart is waiting for charge to be completed. Please complete before editing."
A: To cancel the order;
Select 'RE-SEND TO POTNT'. This will send the transaction to the Poynt device.
The select 'Cancel' on the Poynt device.
Then select 'CHECK RESPONSE AT POYNT'.
Then return to POS and select 'Cancel Order'.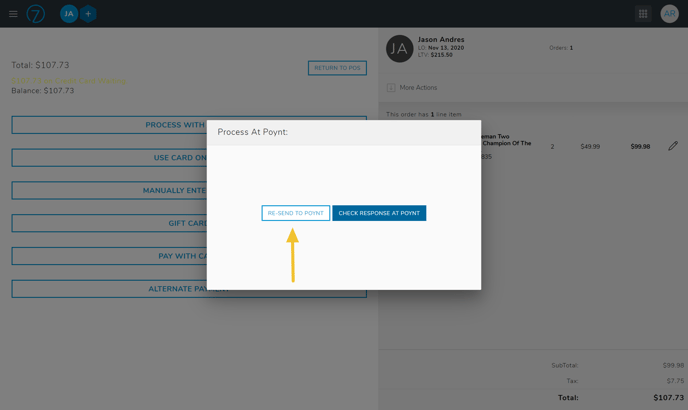 It is possible that the payment was successful on the device, but before selecting Check Response at Poynt your internet went out. If this is the case, please wait until you have internet again before trying again.
Once the payment has been processed and the order doesn't have a customer on file, there is an opportunity to capture the guests email address and they will receive the order confirmation transaction email i.e. emailed receipt.
At this time you can capture the first name, last name and use the drop down menu to select the email marketing status. These fields are not required but a great way to capture the new customers information. Once you have completed this, select Email Receipt.