Set up
To get started with Avalara AvaTax, navigate to the app store in your admin panel and click on the AvaTax app.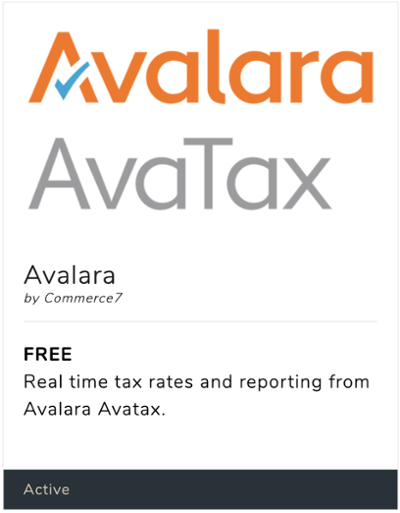 Receive your account number and license key provided in an email from Avalara after you sign up and activate an account.
Set the App Active and Mode to Production
Click Test Connect to confirm your account and license key are correct and your account is active.
After clicking Test Connect the Company Code will automatically be populated with your Company Name as setup in Avalara.
Shipment Status:
You want this setting to use the tax calculation for orders in Commerce7 and at the same time commit the orders to Avalara so you can run tax reports in Avalara.
This setting would use the tax rates from Avalara to calculate tax on orders in Commerce7, but the orders would not be committed to Avalara for reporting purposes.
Tax Codes:
Commerce7 supports 4 tax codes, you can look up tax codes at the following Avalara URL to determine which codes would best suit your needs:
https://taxcode.avatax.avalara.com/
Here are some example codes, we recommend you review the tax codes to determine the best ones suited to your busines:
Wine Tax Code: PA2020300 "Packaged Alcohol - Wine"
Food Tax Code: PF110700 "Prepared Foods - Restaurant - tables and chairs available for eating"
General Merchandise Tax Code: P0000000 "Tangible Personal Property (TPP)"
Freight Tax Code: FR020100 "Shipping Only - common carrier - FOB destination"
Uses Taxes From:
Set this to Avalara.