To keep track of how many products you have available for sale, you'll need to set up inventory for each product. When an order takes place from any channel, it'll adjust inventory in the system.
Before completing the following, you should make sure that both your products and inventory locations are already created. If they aren't, complete those steps first.
This documentation includes:
---
Inventory Overview
In Commerce7, inventory is segmented into three positions: Available for Sale, Reserve, and Allocated.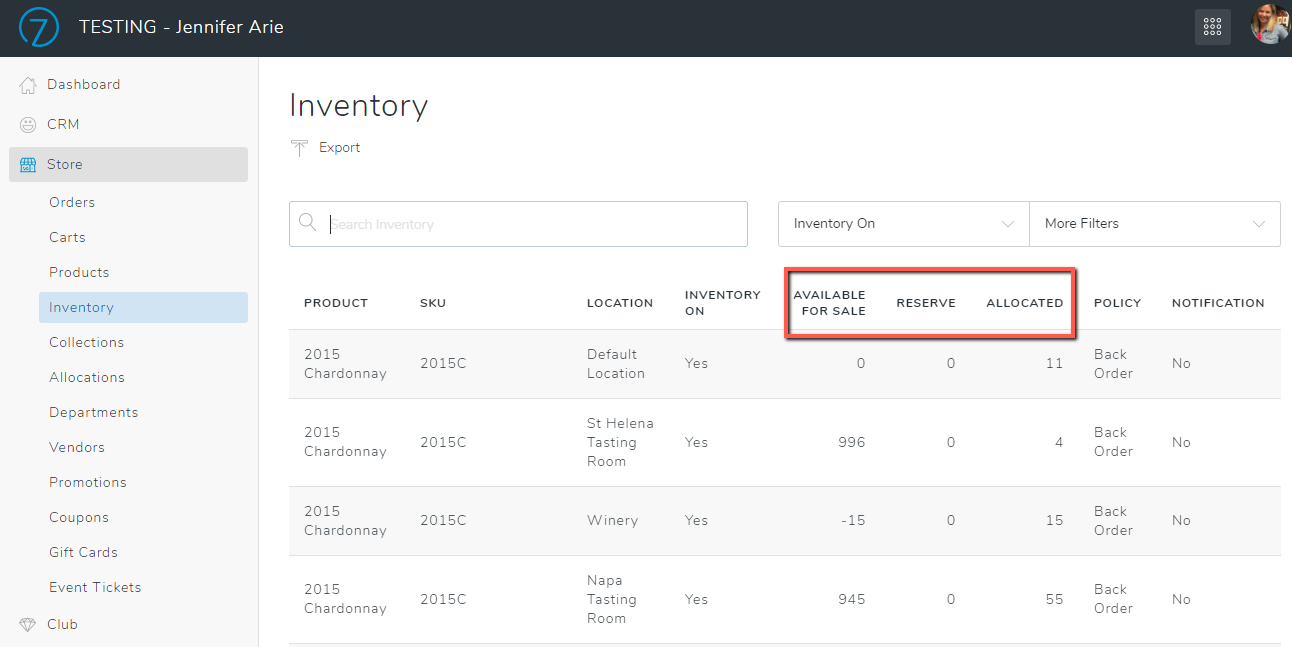 Available for sale: This is your current inventory for the product SKU.
Reserve: If you're using compliance, once an order has been placed, inventory will be moved from "Available for Sale" to "Reserve" and held here until the order has successfully passed through compliance. If you aren't using compliance, this category won't be used by the system.
You can manually move inventory to the Reserve category if you want to set it aside for an upcoming event or for other purposes, but you'll need to move it back to "Available for Sale" before it can be used.
Inventory in the Reserve category cannot be purchased either through the Admin Panel, POS, or Online.
Allocated: This holds all inventory that hasn't been fulfilled or picked up yet. Once an order has been fulfilled, the inventory count will be removed from Allocation and leave the system.
If you're using compliance, inventory will move from "Reserve" to "Allocated" once the order has passed compliance.
All counts refer to each individual SKU that you offer, not an entire product.
---
Turning On Inventory
When creating your products, you had the option to check "Has Inventory". If you checked the box, then you're already on your way and you can skip this. If you didn't do already do this, you can follow the steps to turn on inventory for your products.
Click Store > Inventory > select the product
Make sure that Inventory Process is set to Turn Inventory On
Under Inventory Policy, if you want to stop selling the product once inventory hits 0, select Don't Sell, if you want to continue selling the product and go into a negative inventory count, select Back Order.
Enter available inventory for each of your locations
Click Initialize Inventory
---
Making Adjustments to Inventory
To make adjustment to your inventory, you can the following options:
Changing your inventory policy
Transferring inventory
Adjusting inventory
Resetting inventory
Learn more about each here.
---

Deleting Inventory Locations
You cannot delete an inventory location if it has been used eg POS Profile, Reservations etc. We recommend just renaming the location and adding an XX DO NOT USE in the Title field.