Disclaimer
The Commerce7 - Mailchimp integration is owned and built by a 3rd party developer (Vintools). For questions regarding cost and setup, please contact jared@vintools.co.
For questions regarding the use of Mailchimp please contact Mailchimp directly.
Setup
To get started with this integration - navigate to the app store in your admin panel and click on the Mailchimp app.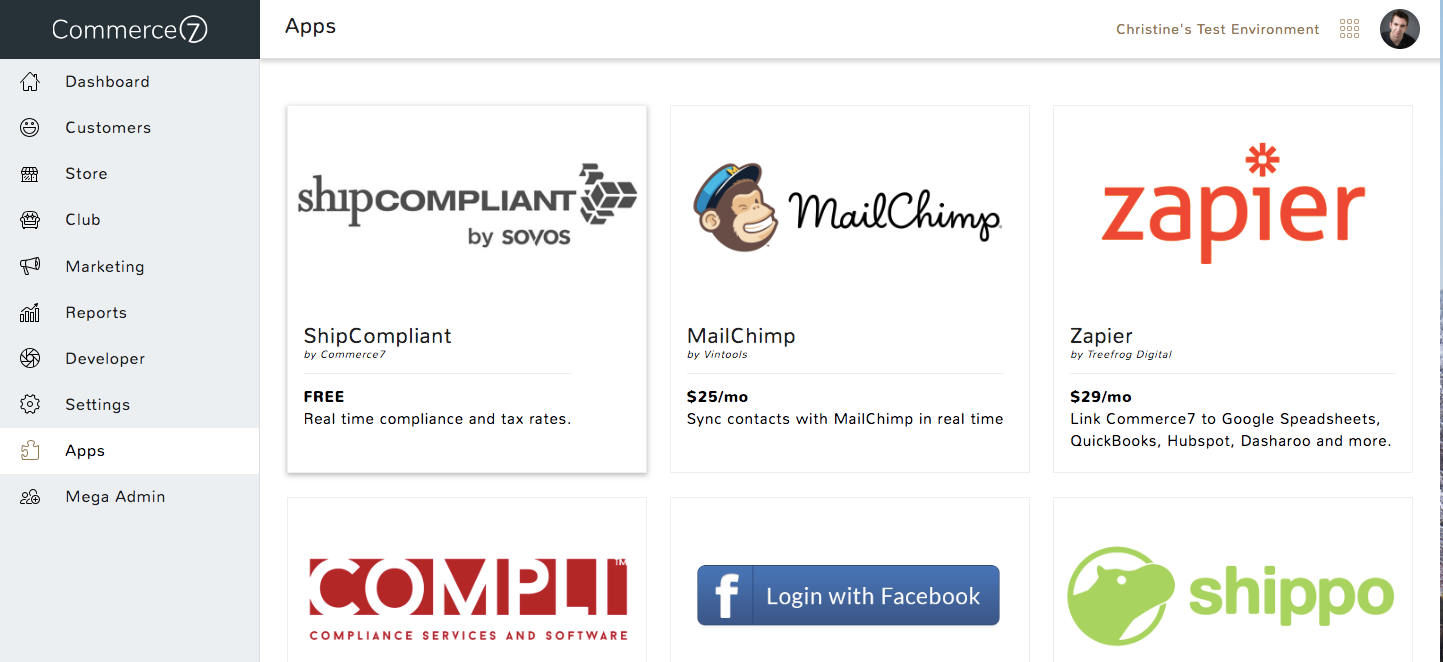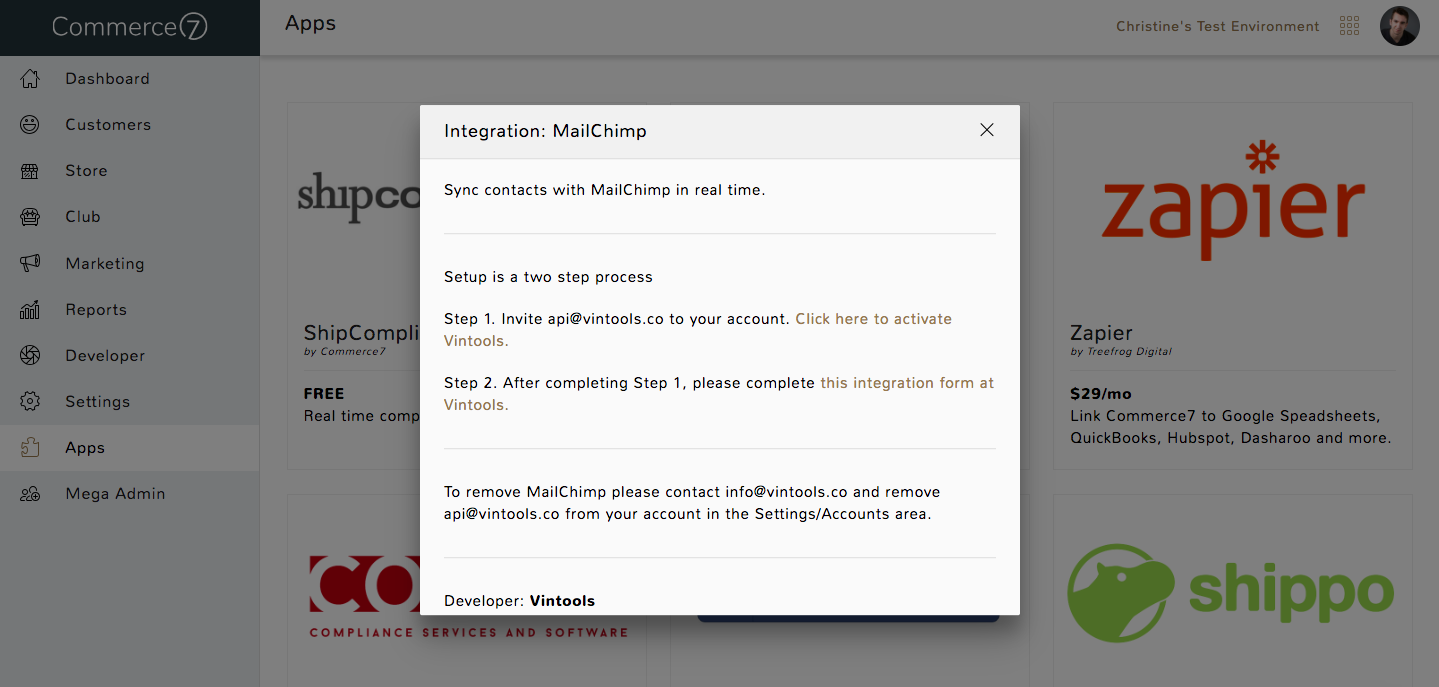 Next, follow the directions outlined in the popup window.
Functionality
The Commerce7 - Mailchimp integration allows you to connect a powerful marketing tool with Commerce7. The capabilities of the integration are as follows:
Sync all Commerce7 clients into Mailchimp. Anytime a Commerce7 customer is created or updated the information is synced to Mailchimp. This includes contact information (address, phone number, etc), groups, clubs, order history (product purchase history, lifetime value, average order value, etc).
Sync all Commerce7 products and coupons into Mailchimp. This allows you to easily pull products and coupons into campaigns built in Mailchimp.
Build and segment robust contact lists in Mailchimp based on Commerce7 data (ex. show me all customers with a lifetime value over $1000 located in Vancouver who have purchased the 2014 Cab Sav this year).
Create automatic (trigger based) campaigns based on Commerce7 data (abandoned cart emails, follow up emails post purchase, send discounts to customers who reach a certain lifetime value, etc).
List Building
After activating the integration, you will have a list in Mailchimp titled "Commerce7 Customers". Any customer that exists in Commerce7 will be synced and exist in this Mailchimp list.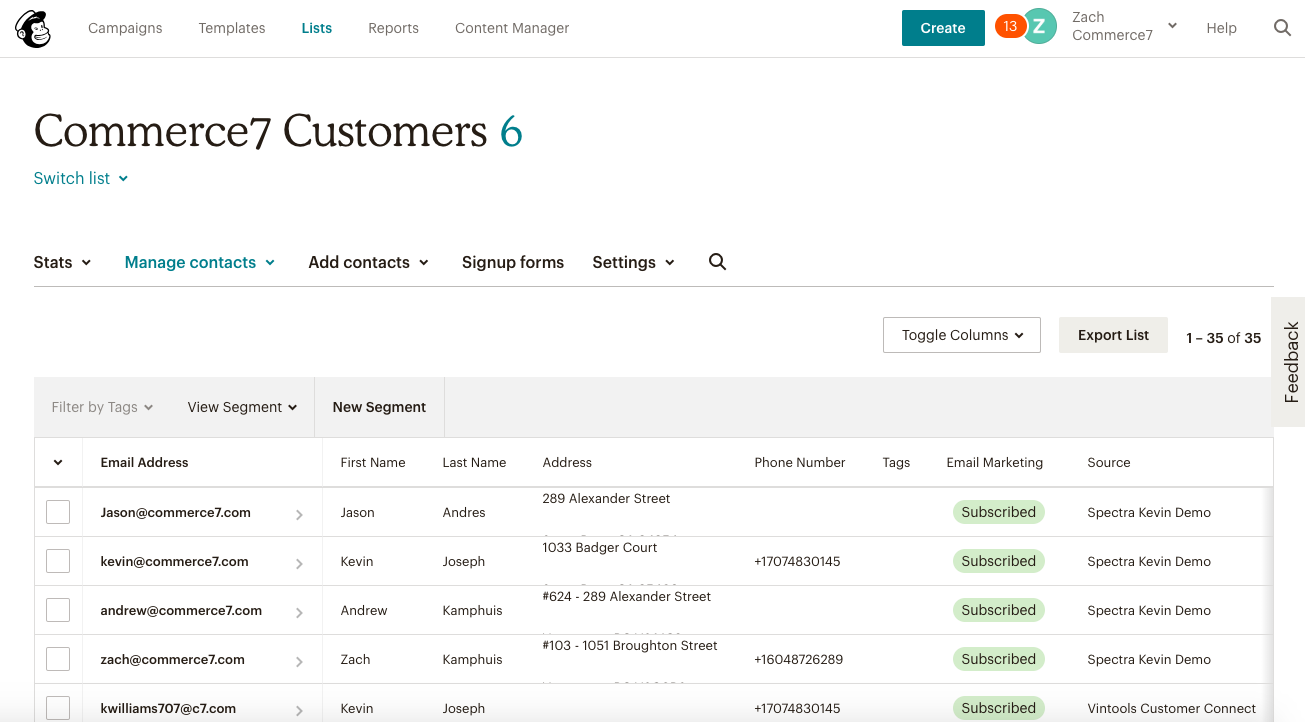 Within this list, you can create a new segment to build detailed lists for targeted marketing.
The integration allows you to segment by the following conditions and multiple conditions can be used to generate a list. (for example, generate a list of all contacts that match X and Y conditions, or generate a list of contacts that match X or Y conditions).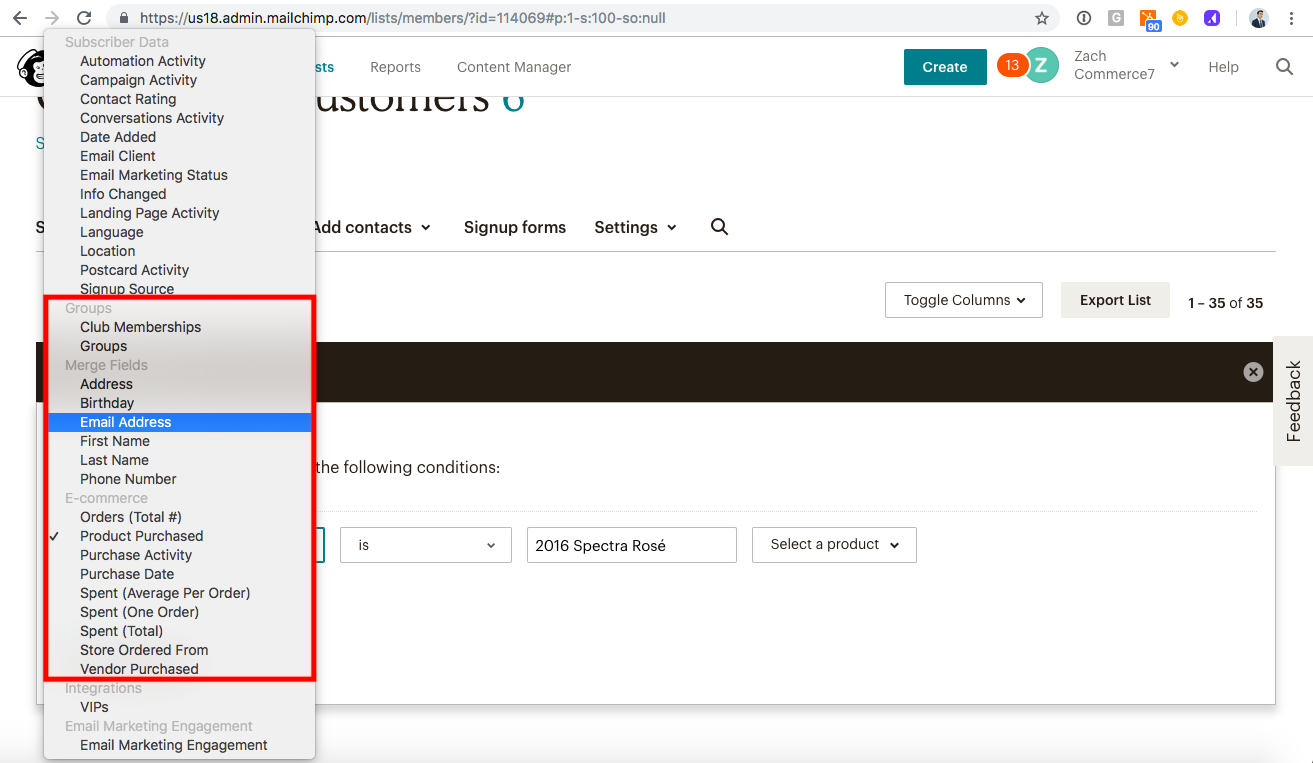 The following are conditions that can used for segmentation.

Orders (Total #)
Product(s) Purchased
Purchase Activity
Purchase Date
Spent (Average Order Value)
Spent (One Order)
Spent (Total Lifetime Value)
Store Ordered From
Vendor Purchased

Club Memberships
Groups
Address
Birthday
Email Address
First Name
Last Name
Phone Number
Building Campaigns
The Commerce7 Mailchimp integration makes building campaigns much easier. You can now pull in coupon codes and products from Commerce7 into Mailchimp, and shortly you will be able to pull in product recommendations (personalized dynamic products that will change based on which contact is receiving your marketing email).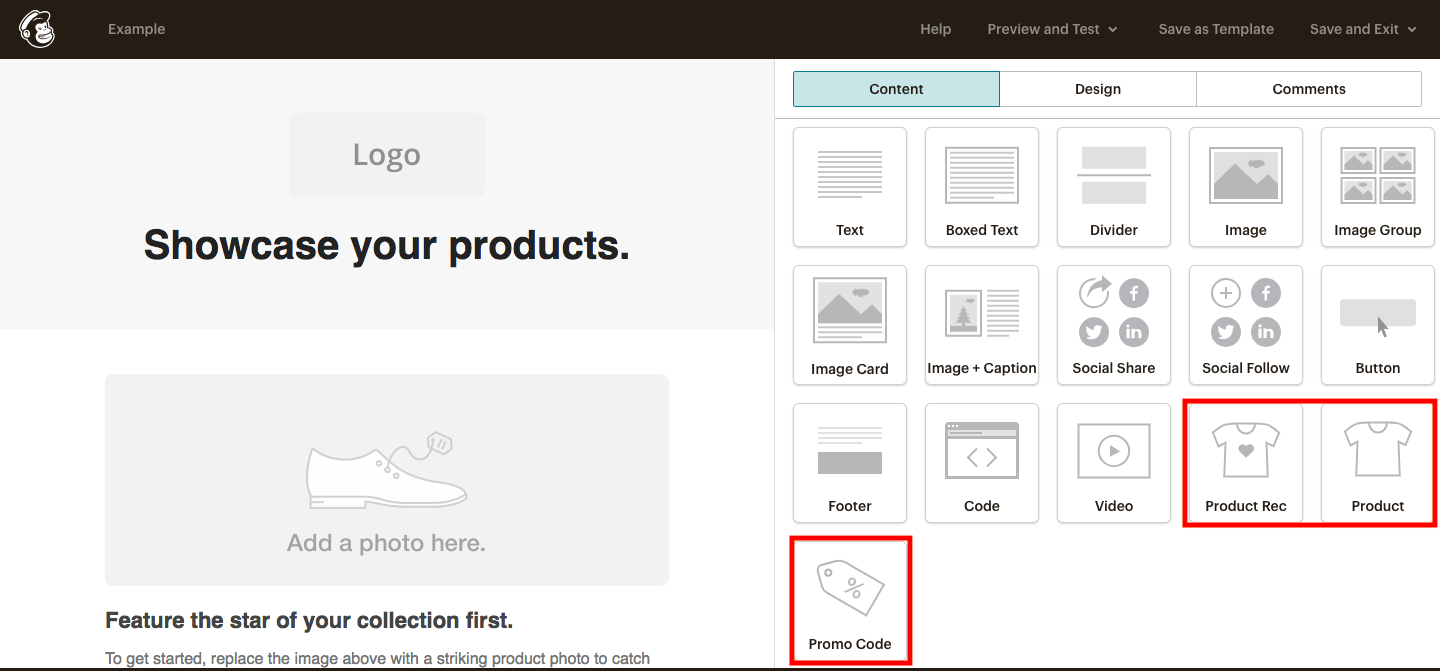 Coupon Code Example: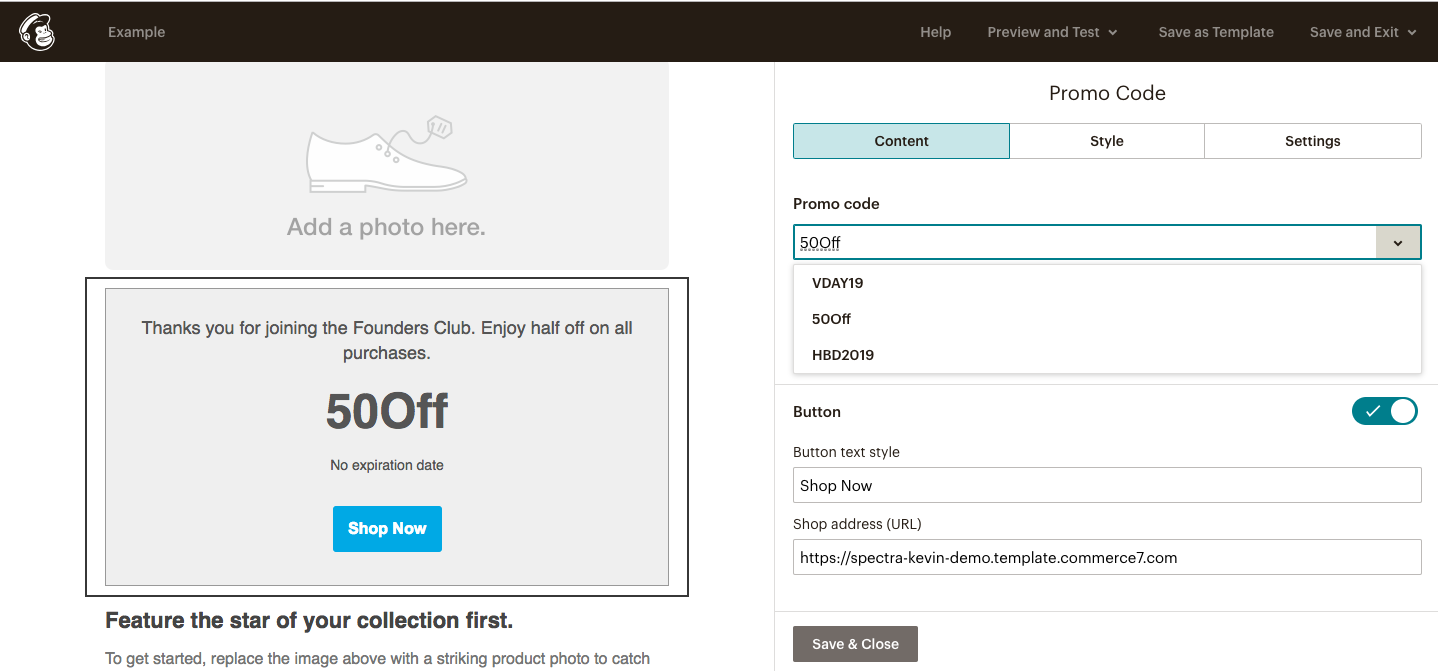 Product Example: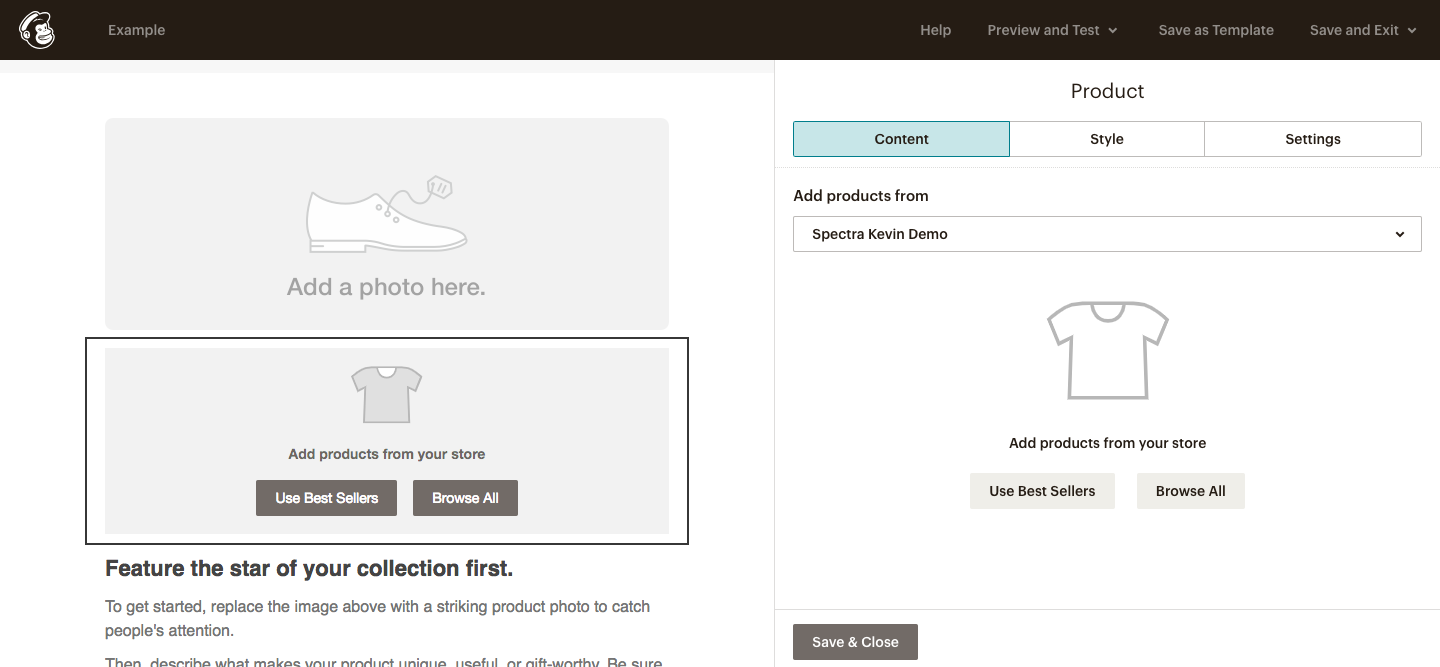 When pulling in products, you can opt to pull in your best sellers (the most commonly purchased products in your store), or specific products.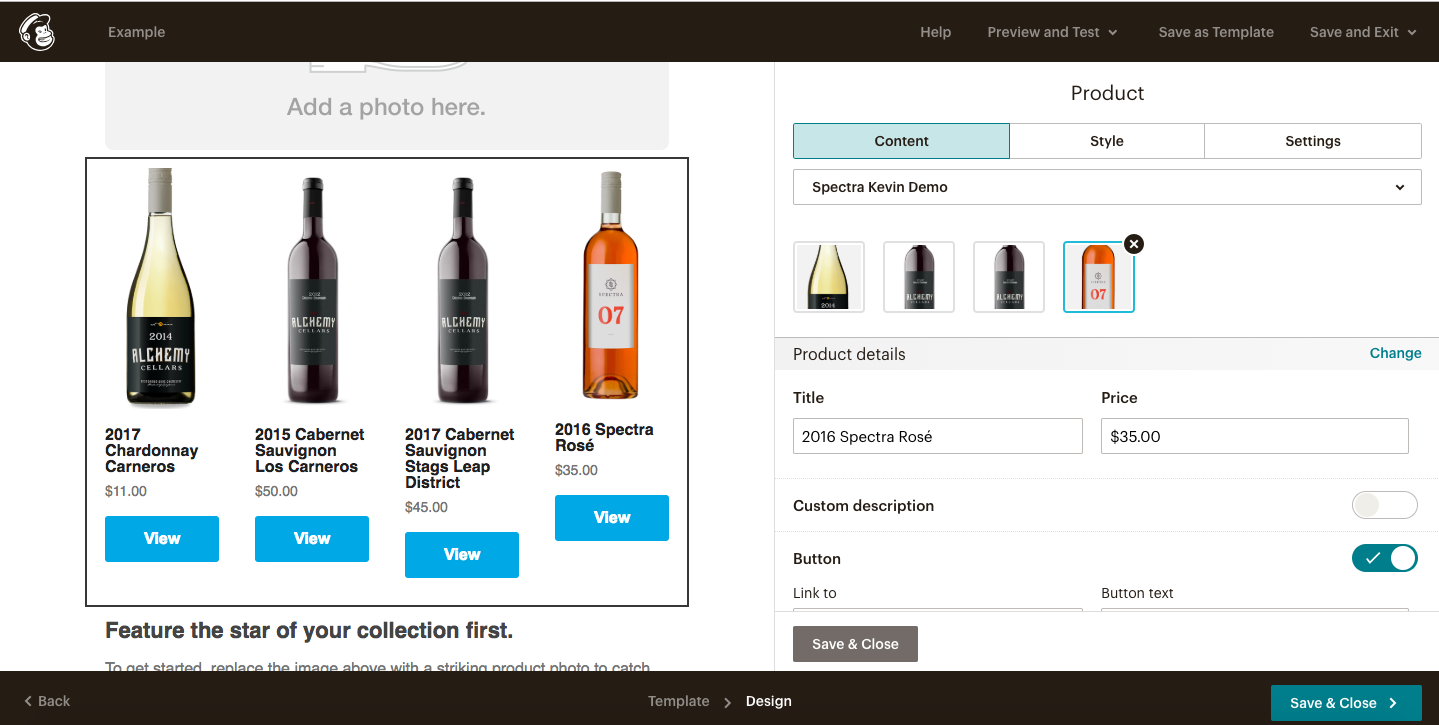 Automated Campaigns
The Commerce7 Mailchimp integration makes creating automated campaigns easy. An automated campaign is a marketing email that triggers automatically whenever specific criteria is met. For example, anytime a cart is left inactive for X hours, you can trigger an email, or anytime a customer reaches X lifetime value, you can trigger an email.
To access automated ecommerce emails - navigate to the "E-Commerce" section of Mailchimps automated campaigns.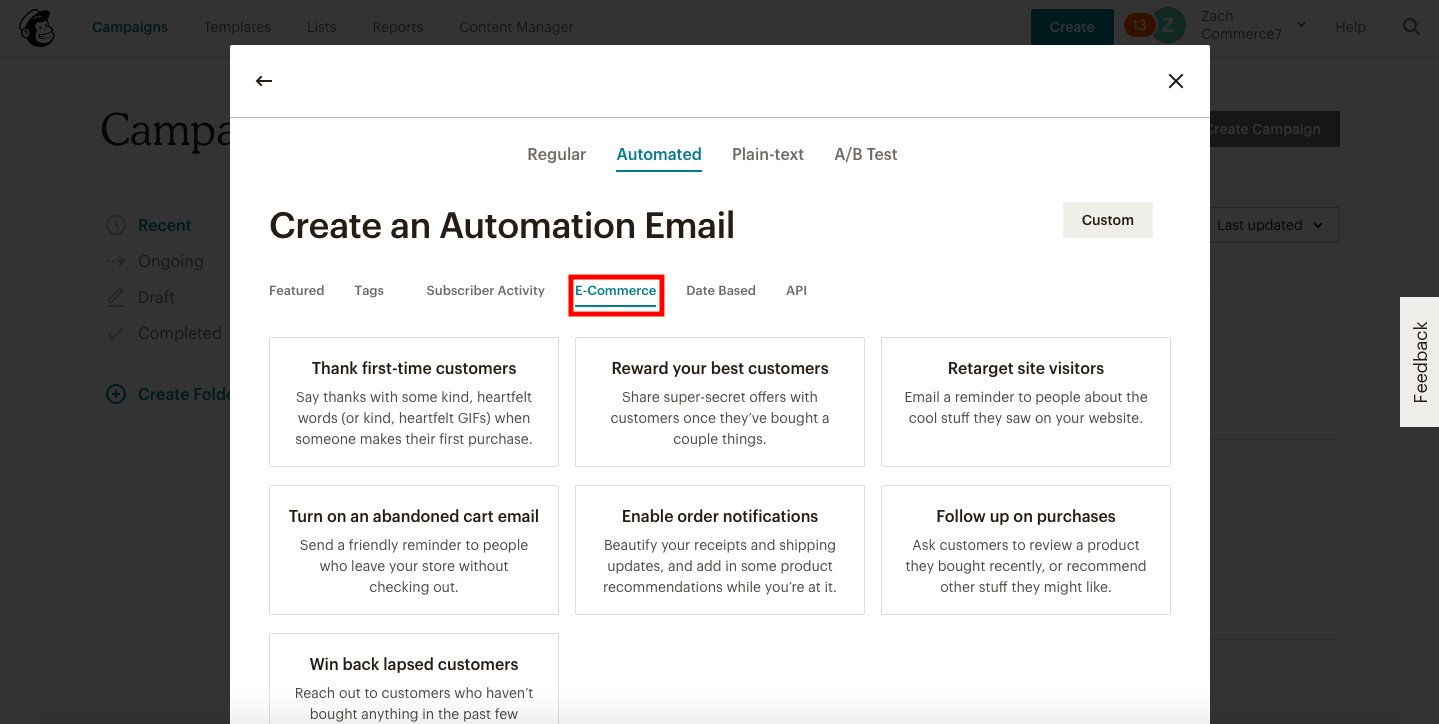 Today, you can create the following automated emails.
Thank first-time customers (automatically send a thank you email to first-time buyers).
Turn on abandoned cart emails (automatically email customers 1, 6, or 24 hours after their cart has become inactive).
Win back lapsed customers (automatically email customers if they have not purchased within X days).
Reward your best customers (automatically email customers once they have X lifetime value).
Follow up on purchases (automatically email customers after they have purchased X product).
The following automated emails are NOT available today. Please do not attempt to use these.
Enable order notifications (transactional emails).
Re-target site visitors.