Instructions on how to migrate credit cards from your previous gateway merchant provider to Commerce7 Payments
Once you have completed your onboarding process with Commerce7 Payments and have your merchant ID activated in Commerce7, you can start the process to migrate credit cards from your previous gateway provider to Commerce7 Payments.
You can reach out to payments@commerce7.com if you have any questions regarding migrating cards. Below are the steps to start the process.
Submitting a Token Migration Job
A Migration Job may take anywhere from 1 week to 4 weeks to complete, based on the time the current merchant gateway takes to complete the export. You can submit this job in advance of the actual migration day you want which would typically take a few days before your new website goes live. If you submit the job in advance then in step 4 below when the primary contact emails the current merchant gateway they should include details on the migration date. The current merchant gateway will also in most cases charge a fee for exporting credit cards/tokens and will provide those costs as part of the email communications. You can only have one token migration Job submitted at a time
Within the Commerce7 Admin Panel Navigate to Developer --> Token Migrations.
Click Add Token Migration
Select the source token provider, this is your current merchant gateway provider, enter the source merchant ID and the contact for the winery owner or financial officer who setup the original gateway.
Click Save to submit the job. The primary contact entered below will receive two emails, one email will be a template email that should be forwarded from the primary contacts email address to introduce the current gateway to VGS and the migration process. The other email will be a confirmation of the job submission.
When the migration job has been completed the primary contact will receive a notification email that the job is complete and can then have the data migration partner for new clients, or Commerce7 for existing clients, download the token file and import it into Commerce7. see below for details on downloading the new tokens.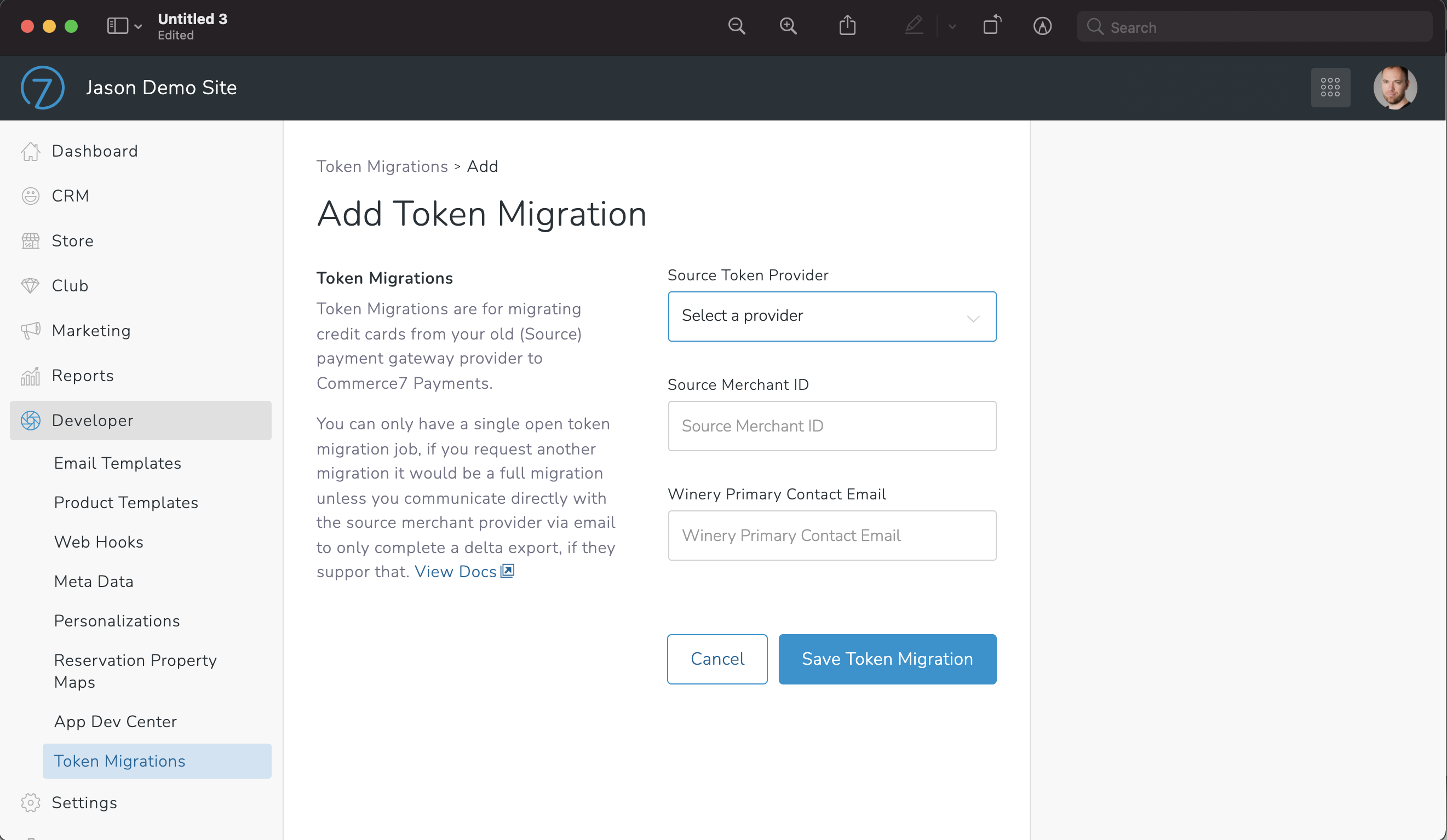 Downloading the new token output file.
Click the JobId in the list of Token Migration Jobs, If there is no Download button, click Job Status. This will take you back to the list view and update the status too Competed if the token output file is available. Then you can click JobId in the list view and click the download button.
When you click the download button, this will open a new browser window with the token output file displayed in text CSV format. Right click anywhere on the page and choose save file and save the file, adding the tenant name so you know which tenant the file is for.
The token output file will have the following fields below. When building the token object to upload to Commerce7 reference the previousTokenIdentifier which is the token from the previous platform to do the matching back to customer credit cards to upload.
Bin, ExpirationMonth, ExpirationYear, FullsteamTokenIdentifier, ImportStatus, Last4, Messages, Name, PreviousTokenIdentifier, Zip
When building the token object below, you need to provide the cardBrand which is an list of values in Commerce7, here is the list: https://api-docs.commerce7.com/docs/creditcard-enums#credit-card-brand

You can determine the card brand from the Bin, there are several packages pre-built that can do this for you, here is a NODEJS package that we use to determine the card brand: https://www.npmjs.com/package/credit-card-type
Here is the URL and sample object to upload a token on file to Commerce7

URL: https://api.commerce7.com/v1/customer/:id/credit-card
Object:
{
"tokenOnFile": "9ff426e3-b9b8-11ec-b895-0247f2252de5",
"expiryMo": 11,
"expiryYr": 2028,
"cardHolderName": "John Doe",
"gateway": "Commerce7Payments",
"cardBrand": "Visa",
"maskedCardNumber": "************1111",
"isDefault": true
}