New product releases announced in this year's Commerce7 event with updates to clubs, emails, payments, security and more. Watch the replay here https://commerce7.com/2023/live/
---

Clubs & Subscriptions


Customers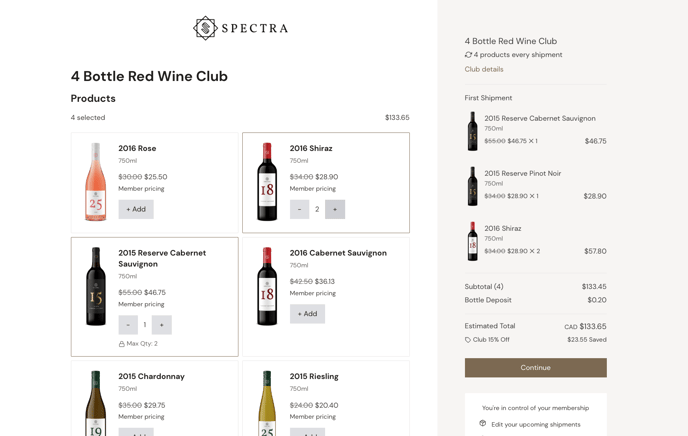 Product selection on signup: Customers can now select products while signing up for a "Traditional Club" online if there is an active club package. (Already available for subscription clubs.) Learn more here.


Entice customers to complete the signup process by allowing them to select their products first and see the discounts that they'll receive before entering all of their shipping and payment information.
Any requirements that you've set on the club package will still be enforced such as a minimum number of products, or minimums and maximums set on individual products.
Admin
We've completely revamped the admin tools for subscription clubs and traditional clubs to make it easier for you to manage upcoming shipments and provide more flexibility to how you process your clubs and interact with member shipments.
Combined club packages: View all club package shipments at once on the Club Shipments page. Benefits include:

Easily search for a member's shipment instead of first having to select the specific club package that they're in.
Process multiple club packages at one time (or filter and then process in groups based on pickup/ship, payment status, etc.)
Filter to view shipments with declines or issues across all of your club packages and bulk re-process them.

Combined subscription shipments: View all upcoming subscription shipments/orders on the Subscription Shipments page. Filter and search for upcoming subscription shipments in one spot.
Combined club inventory: Preview inventory required for all subscription clubs or all traditional clubs with the ability to filter down to a specific club. Learn more for traditional clubs here and for subscription clubs here.
Swap club products: Swap a product in any subscription club or traditional club package to exchange it with another for all unprocessed shipments. (Particularly helpful if you run out of inventory mid-processing.) Learn more for traditional clubs here and for subscription clubs here.
Custom member shipments: For an individual member's shipment, add any item from your store or override the price on any given item. (Compatible with Frontend V2)
Decline auto-retry: For declined shipments, if the member updates their credit card online, Commerce7 will auto-retry their card. (*C7 Payments, Stripe and PayStack only)
---

Payments
United States
Apple Tap to Pay: Download our Commerce7 Payment app to start taking payment on the POS without need for an EMV device. For any order under $250, customers can tap their credit card directly on an iPhone and payment will be captured. Learn more here. (*C7 Payments only)
** Coming soon - Please contact us to be put on the list for early access.
Commerce7 Payments statements: Access your gateway statements directly in Admin. Under Reports > Finance > Gateway Statements select a month and a year and click to view your statement including transactions, payouts, and chargebacks. (*C7 Payments only)
Africa
"Sumni" payment device: Run the entire point of sale system on a Sumni device and take payment by simply tapping on the glass, through the built-in chip reader, or a PIN. Available in various sizes similar to an iPad or iPhone. ** Coming soon
Canada & Australia
Stripe tipping: You can now tip directly on the EMV device.
Commerce7 will begin to sunset legacy gateways in favour of our modern gateways. Our modern gateways include Commerce7 Payments, Stripe, and Paystack. These modern gateways allow us to build innovative features, available for all clients. Legacy gateways have limited control and are not compatible with many new changes that we want to offer.
---

Emails
The theme builder and the new transactional email content are currently in Beta. Please reach out to support@commerce7.com if you'd like to be given early access. This will be rolled out to all clients very very soon!
Email theme builder: The new Email Theme Builder gives you more control over the emails sent from Commerce7, allowing them to be more cohesive with your branding. Add a background color, adjust your logo alignment, add social links to the footer and more! Changes you make will be applied to both your transaction and campaign emails. ** Coming soon
Transaction emails refresh: We've audited the content for every single Commerce7 email and given it an update to make it modern and clear for your customers. ** Coming soon
Reminder emails: We've introduced 2 new transaction reminder emails for pickup orders and upcoming reservations. When enabling each email, select the timing that you'd like it to be sent. For example, 2 weeks after the order is placed if it hasn't been picked up. ** Coming soon
Subscription confirmation email: When a customer subscribes via a widget, instead of receiving the existing "Account Activation" email, they'll get a confirmation of their subscription. (They'll continue to receive the Account Activation email when they create an account.) ** Coming soon
---

Reservations
Cancel online: Allow customers to manage their own reservations without having to call in. (Compatible with Frontend V2). Learn more here.

Based on the reservation type, you can now enable online cancellations and set the number of hours notice required.
If you allow online cancellations for a pre-paid reservation type, and the customer cancels, they will automatically be refunded.
Cancellation refunds: When cancelling a reservation as an admin, if the reservation was already paid, you'll have the option to refund the customer at the same time.
Admin notification: Enable the "Cancel Reservation" admin notification to be notified when a customer cancels their reservation online.
Apple Pay online: Customers can now pay with Apple Pay when making a reservation online. (Frontend V2 only) ** Coming soon
Reservation reminder email: As mentioned above, we've introduced a new email to remind customers of their reservations. If you choose to enable, you can select the timing of when you'd like it to go out. ie. 24 hours before the reservation starts. ** Coming soon
---

Security
Security is important, which is why Commerce7 has increased measures to further protect both your and your customers' data.
2FA: Increase security of your data with two-factor authentication. If enabled for your admin user, when you log in, the system will send a unique 6-digit code to your mobile device. This code will be required to complete login. Learn more here.
Password security: All new or edited passwords must now be 12 digits long.
Data role restrictions: The "Data" role grants a user full access to your data. Soon this role will only be available for clients currently onboarding. Instead, 3rd party partners and integrations will be required to create a private app through our dev center, only selecting the data that they absolutely need to access.
---